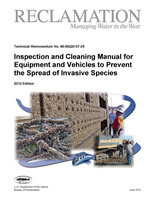 Invasive species are a serious concern and limiting their spread is important to protect the environment and ecosystems across the West
Denver, CO (PRWEB) June 28, 2012
The Bureau of Reclamation has updated the Inspection and Cleaning Manual for Equipment and Vehicles to Prevent the Spread of Invasive Species. This manual provides guidance for inspection and cleaning of vehicles and equipment to limit the spread of invasive species from one site to another.
"Invasive species are a serious concern and limiting their spread is important to protect the environment and ecosystems across the West," said co-author and Reclamation's Invasive Species Program Coordinator Joe DiVittorio. "This manual has application for agriculture, construction, facilities and for many organizations and agencies. It is easy to use will reduce invasive species and pest problems on land and in water."
Additions to this version of the manual include diving equipment, a quick find subject directory, new graphics and a new flowchart that walks the user through multiple steps of inspection and cleaning actions. This manual will also be the reference standard that acquisition contract contractors must follow while working on Reclamation facilities and lands.
Although not every type of equipment type is covered in this manual, five major equipment types are covered. They are: rubber-tired land vehicles; tracked land vehicles; personal use equipment, including dive gear; construction and facility equipment; and watercraft.
The manual is available online at Reclamation's Invasive Mussels website.