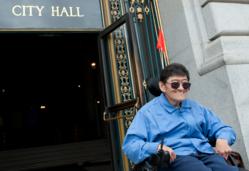 Here at The Blende Dental Group, we have enjoyed getting to know Bruce and are not only inspired by his role at the SFMTA but also by his position as a disabilities rights advocate
San Francisco, CA (PRWEB) June 29, 2012
Former SFMTA board member and disabilities rights advocate Bruce Oka recently reached out to San Francisco special needs dentist Dr. David Blende. Bruce hoped to find a permanent fix for his severely broken and decayed teeth, caused by his cerebral palsy. Oka is a shining example of the dramatic dental rehabilitation that can be achieved under the diligent work provided by The Blende Dental Group.
"Here at The Blende Dental Group, we have enjoyed getting to know Bruce and are not only inspired by his role at the SFMTA but also by his position as a disabilities rights advocate," said Dr. David Blende. "Bruce has helped our city become a world leader in public transportation for those with disabilities."
Bruce Oka was referred to The Blende Dental Group by Dr. Paul Subar, assistant professor and director of the Special Care Clinic of the Hospital Dentistry Program at the University of the Pacific. About 60% of all of The Blende Dental Group's patients come from referrals from other dentists, physicians, care managers and social workers, which speaks to their reputation in the field of special care dentistry.
Upon examining Oka, San Francisco sedation dentist Dr. David Blende found him to have significant dental caries and multiple broken teeth. This was due to years of clenching and grinding brought on by his cerebral palsy. Due to his condition, a past neck injury and further complications, The Blende Dental Group determined that Oka would be treated most comfortably while asleep under general anesthesia in a hospital setting.
After a short hospital procedure and a follow-up visit in-office, Bruce's treatment was complete. He was moved by the experience. "The entire staff there is tremendous because they are both highly skilled as well as genuine. Through every interaction, I can see that everyone cares about what they are doing," said Oka.
For more information about The Blende Dental Group's ability to individualize treatment for their patients call them at (415) 563-4261 or toll free at 1-800-575-3375 during normal business hours or call 1-877-HOUSE-07 (1-877-468-7307) for dental emergencies 7 days a week, 24 hours a day.
The San Francisco dental office is located at 390 Laurel Street in Presidio Heights. Visit http://www.blendedentalgroup.com/ to make an appointment and view their full range of services. If you are active on social media, feel free to stay in touch with their educational campaigns and events via Facebook.
About The Blende Dental Group
The Blende Dental Group is the Home of the House Call Dentists. As special needs dentistry in San Francisco, they serve both general patients and individuals with special needs, including seniors, phobics and those with disabilities (behavioral, cognitive, medical or physical challenges). This medical-dental group has over 40 years combined experience. They are able to address a diverse range of patients by individualizing treatment, either Awake (in-office), Asleep (under general anesthesia at one of eight Bay Area hospitals where they are on staff), or even At Home (in the patient's home anywhere within a 60-mile radius of San Francisco). The Blende Dental Group has earned its reputation as a national leader in the treatment of patients with special needs by safely and successfully completing thousands of complex cases. Their vision is to remove barriers to receiving dental care. Their mission is changing lives one smile at a time: Awake, Asleep, or At Home.
The Blende Dental Group, specializing in sedation dentistry in San Francisco has been featured in USA Today Weekend, the San Francisco Chronicle, Exceptional Parent, the Alzheimer's Association newsletter and Ability magazine, among other publications. They have also been featured on ABC 7 (KGO) News with Dr. Dean Edell, and on NBC (KNTV) San Francisco Bay Area News.