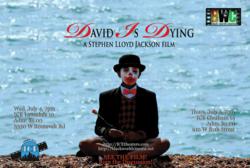 It's not everyday you get told you got HIV.
Chicago, IL (PRWEB) June 30, 2012
David Is Dying took America by storm on the film festival circuit last year. BLACK WORLD CINEMA proudly presents their special two day screening of this gripping and harrowing movie.
From UK writer/producer/director Stephen Lloyd Jackson, comes this gritty psychodrama. As a young boy 'David' fell in love with his mother, a beautiful French/Caribbean woman. Roxanne, a prostitute, lived a life of alcohol and cocaine addiction. She would often entertain her rich male clients, unaware that her son, David (aged 10) would be spying on her. After her death, caused by a drug overdose, David vowed to recapture her spirit in another woman many years later. After David (aged 36), met Carla, whom for him was a reincarnation of his late mother Roxanne, he went on to developed an obsessive fixation with her. His neurotic, paranoid behavior resulted in his obsession with her. Whenever David felt Carla rejected him, he would have frequent affairs with other women, thus resulting in him contracting HIV.
In 2011, David Is Dying became the first UK movie in the history of the American Black Film Festival to scoop two grand jury prize awards for 'Best Actor' Lonyo Engele and 'Best Director' Stephen Lloyd Jackson, beating off Hollywood heavyweights in the process. Critics at the 15th ABFF gave the film positive reviews too. The film went on to win a further four awards at the New Wave Los Angeles International Film Festival and 'Best International Film' award at the Urban Mediamakers Film Festival.
The HIV disease is the backdrop for this nihilistic and tragic story, which also questions possessive behavior in relationships. David Is Dying also encapsulates many other interesting and disturbing issues that are rarely exposed in modern cinema.
After the two screenings in Chicago at the ICE, there will be a panel discussion regarding the seriousness of HIV amongst African Americans.