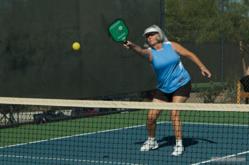 This is where serious pickleball players will show their stuff.
Phoenix, AZ (PRWEB) June 30, 2012
The USA Pickleball Association (USAPA) is pleased to present the 2012 USAPA National Pickleball Tournament in Buckeye Arizona with play November 4-12th. With its unique name, pickleball is rapidly growing into an international sport for players of all ages.
Over 400 pickleball players will be participating in this year's National Pickleball Tournament from 31 states and provinces. Events include singles, doubles, and mixed doubles in open, senior, adult, young adult and junior divisions.
Registration is now open with a deadline of Oct. 5, 2012. All players must be members of the USAPA. Register at http://nationals.usapa.org/
Pickleball is a fun court sport played on a badminton-sized court with the net lowered to 34 inches at the center. It is played with a perforated plastic ball similar to a whiffle ball and wood or composite paddles about twice the size of ping-pong paddles. It can be played indoors or outdoors, is easy for beginners to learn – but can develop into a fast-paced, competitive game for experienced players. In addition to being fun, the game has developed a reputation for its friendly and social nature.
Pickleball is played by all ages. It is a popular sport in schools, YMCAs and senior centers. The smaller court size and inter-generational appeal makes it perfect for backyard courts. It has great health and fitness benefits for all.
More information about the USAPA can be found in the media center at http://www.USAPA.org. Additional information and story ideas are available from David Johnson at (253) 854-0163 or media(at)USAPA(dot)org.
###