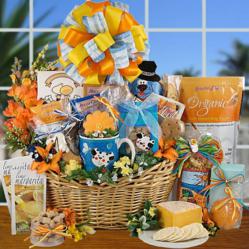 "Delivering Happiness in a Box Since 1998"
(PRWEB) June 29, 2012
The actual number of rescue groups that exist is very difficult to ascertain, but larger organized groups can help place hundreds of dogs and cats in a year. These rescue groups survive on donations from loyal followers and countless hours put in by volunteers. Often the animals taken in have suffered years of abuse or neglect and are in dire need of medical care. Once the dog or cat enters the care of the rescue, they are provided with full medical care, are spayed/ neutered, so that they will not continue to contribute to the overpopulation problem and are given the love and attention that most have never experienced. The animals are then placed into a loving foster home while they wait for a permanent home. The process to help these animals find loving homes requires vast amounts of donations, both money and human hours.
Big Fluffy Dog Rescue based in Tennessee is a GiftBasketsPlus.com staff favorite. The tireless efforts and compassion that this group provides to unwanted and neglected animals is amazing. It was a difficult decision for the staff to pick just one rescue to start a donation program with, but plans are being made to partner with more rescues in the future. The staff is hoping for the success of this partnership to not only raise awareness of animal overpopulation but also help raise donations that the animals desperately need.
GiftBasketsPlus.com has pledged to donate a percentage of sales to Big Fluffy Dog Rescue. The donation process is very simple, order any gift basket from GiftBasketsPlus.com, enter this code (BFDRD) at checkout and a percentage of that sale will be donated to the rescue. It is a feel good way to not only get a great gift but also to make a donation to the animals. If you would like to get more information or see the great dogs that are currently available for adoption, visit bigfluffydogs.com.
GiftBasketsPlus.com has been delivering the finest gift baskets since 1998. In addition to gourmet and birthday gift baskets, GiftBasketPlus.com also offers organic gift baskets, kosher baskets, spa gifts, corporate baskets, thank you gifts, romantic gift baskets and even pet gift baskets.