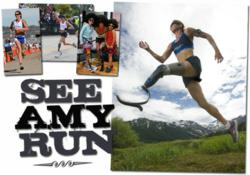 YooDara can be used as a neat learning tool for all of the children we help.
- Amy Palmiero-Winters
Prescott, AZ (PRWEB) June 30, 2012
Through its' donation of YooDara Good Luck Charms, Dimension 9 hopes to increase fundraising efforts for the foundation which focuses on providing positive sports experiences for children with limb loss. World-class athlete and founder of the One Step Ahead Foundation, Amy Palmiero-Winters explains, "YooDara can be used as a neat learning tool for all of the children we help. They convey the message that even though all of us are different on the outside, we are all the same on the inside."
Palmiero-Winters also identified the top five ways in which the One Step Ahead Foundation positively impacts children with disabilities:
1. Builds life-long confidence and courage
2. Promotes friendship and teamwork
3. Boosts self-esteem
4. Encourages exercise and a healthy lifestyle
5. Reduces withdrawn or passive behavior
Palmiero-Winters attests first-hand to the tremendous role athletics can play in the lives of those with physical limitations. After losing her left leg below the knee in a motorcycle accident in 1994, she went on to earn eleven world records and an array of firsts for a female amputee in marathons, triathlons, and ultramarathons. Through these numerous achievements, Palmiero-Winters became a role model for many, especially for children with similar physical disabilities. In order to make an even larger impact, she founded the One Step Ahead Foundation to provide more unique opportunities for children with physical disabilities.
Joining Palmiero-Winters is the One Step Ahead Foundation's official spokesperson, Aviva Drescher. Star of Bravo's The Real Housewives of New York, Drescher recently auctioned off an opportunity to join her for lunch and a visit to the shoot of the hit show to benefit the foundation. Donations can be made directly to the One Step Ahead Foundation on their website at http://onestepaheadfoundation.wordpress.com/.
###
Dimension 9 is a manufacturer of quality gift products. Privately owned and operated, Dimension 9 develops and imports superior, high-quality and high-profit products. YooDara Good Luck Charms are a dynamic line of 36 string characters, each with a name and positive message. There are four different tribes that make up the YooDara line. The nine members within each tribe all share a common, enthusiastic sentiment: Good Luck, Power, Protection, or Wisdom. YooDara Good Luck Charms have been featured by NBC's the Today Show as well as TrendHunter Magazine, the world's number one largest, most popular trend spotting community. YooDara Good Luck Charms are available now at specialty, gift, and souvenir shops throughout the nation.
YooDara Good Luck Charms are found on Facebook at http://www.Facebook.com/YooDara and Twitter at http://www.twitter.com/YooDara. For wholesale information and opportunities, visit http://www.YooDaraSales.com.