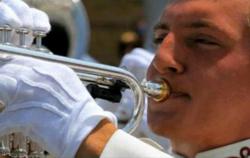 Lynchburg, Va. (PRWEB) June 30, 2012
Michael Kerr, a rising junior at Liberty University, is spending his summer touring with The Cadets, a drum and bugle corps from Allentown, Pa. The group is a 10-time world champion with Drum Corps International (DCI), sometimes called "marching music's major league." DCI is the only sanctioning organization of its kind for junior (21 and under) drum corps in the world.
Kerr, music performance and teacher licensure major, is the only member of the Liberty University Marching Band to perform with the elite group while a student at Liberty. He plays the trumpet, an instrument he first picked up in fifth grade.
Annually, thousands of young people travel across the country to audition to join a DCI drum corps. For Kerr, the process began with a winter tryout camp at the corps' base in Allentown, and then another camp there in March where final selections were made and he was offered a spot on the 150-member Cadets.
The honor does not come without hard work, as The Cadets will be traveling to 29 competitions in 20 different states over the next two months, culminating at the 40th Annual Drum Corps International World Championships Aug. 8-11 at Lucas Oil Stadium in Indianapolis, Ind. The group practices 12 hours every day, six hours on performance day. Performances are often back-to-back.
"It's definitely a lot of hard work, but if you are willing to put forth the effort, then it is very attainable," Kerr said. "The Cadets can bring people from a lot of different levels of talent and bring them to the same place, where they are all performing at a high level. Their ideology is not to have the most talented kids, but the hardest working."
Dr. Stephen Kerr, director of bands at Liberty and Michael's father, said he is proud of his son's accomplishment and excited for his chance to represent the university and the band program.
"He has grown tremendously as a musician, and in his ability on the marching field," Stephen Kerr said. "As a result, his understanding of how to push himself and endure the long hours required in an elite corps helped to raise his level of expectation and performance. … All of this combined make me very proud that Michael is a member of The Cadets."
Michael Kerr got his first taste of drum corps as a student at Jefferson Forest High School in Forest, Va., when his band director took him to a DCI drum corps competition.
"I was wowed by what they [drum corps] are able to accomplish," Michael Kerr said. "When I was told that members were at my age, people from as young as 14 [years old] all the way up to 21, it definitely sparked my interest right away."
This isn't Michael's first opportunity to join an elite group. As a high school senior he was one of 97 students from across the country to be selected for the U.S. Army All-American Marching Band in 2009.
The Liberty University Marching Band, "The Spirit of the Mountain," is an exciting company of brass, woodwind and percussion instrumentalists, accented and accompanied by a full color guard.
Liberty University, located in Lynchburg, Va., is the world's largest Christian university. Nearly 100,000 students attend classes on its 6,800-acre residential campus and study in its thriving online education program.