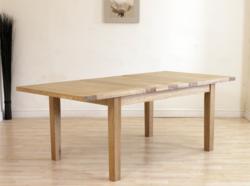 Oak Furniture King has one simple aim, to provide consumers with 100% Solid Hardwood Furniture, no chipboard, no mdf and no veneers are used in any Oak Furniture King products
(PRWEB UK) 30 June 2012
The UK online retailer, Oak Furniture King has today announced the launch of the Seattle range of oak dining tables. The Seattle extending dining table is delicately handcrafted from only the finest carefully selected and graded oak timbers. It features an easy to use extension mechanism which effortlessly opens to reveal two extension panels which can be used independent of each other. The table extends to 180cm using 1 extension panel or 210cm using both extension panels. The length without extensions is 150cm.
The table top opens for the extension panels to be fitted in the centre of the table on a solid sturdy frame capable of holding immense weight without stressing or giving way under pressure. This is unlike many other extension tables where the panels have to be mounted on the ends of the table where there is little support, which can cause the arms of the panels to weaken and break.
The surface of the table is 1½ inch thick 100% solid oak. The Seattle has a light lacquered finish to ensure all year round protection. There's no need to apply oil to this oak as the lacquer seals and protects the oak. Remember we use 100% solid oak on every part of this table, this is not part solid part veneer furniture. Each table is handmade by skilled craftsmen and is truly built to last a lifetime.
Oak Furniture King Owner Khaled Ulla also stated, "Important quality note: It is important to point out that all of our tables are made from solid pieces of full length oak not finger jointed oak. Finger jointed oak is when lots of small off cuts of oak are joined together. Although this is still classed as solid oak it creates an unnatural look and it ultimately a cheaper method of production."
Oak Furniture King Digital Marketing Consultant added to the announcement by stating, "Oak Furniture King has one simple aim, to provide consumers with 100% Solid Hardwood Furniture, no chipboard, no mdf and no veneers are used in any Oak Furniture King products."
Thanks to their philosophy of great products at great prices, the business aims to become one of the UK's leading home oak furniture retailers, a family-run business with the same family values. Simple values, like providing the best products at the lowest prices.