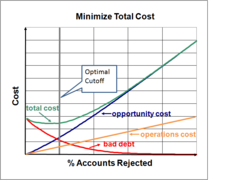 Larry and team have excelled at building a highly predictive model that created real value for our business, with savings that are in the tens of millions. Gary Thompson, Executive Vice President, Travelers Financial Corporation
Weston, MA (PRWEB) July 18, 2012
The subprime lending business is attracting some very risky borrowers and could be growing "too much too fast," Moody's wrote in a report in March 2011. So why are lenders such as Santander, Ally Financial, and TD Bank Group diving headlong into this business? Two reasons: the demand for cars is up, thus auto lending is one of the few types of consumer debt that is growing; its market size is $658 billion.
Despite the economic downturn, a Grant Thornton 2011 study shows that automobile loans have withstood the pressures of the credit crisis, ultimately outperforming first and second mortgages since 2007. According to Ally President William Muir, subprime car lending is "a very attractive business today," with profit margins on the loans more than covering the cost of expected losses from borrowers who fail to repay.
But to take full advantage of these subprime loans, banks have to be smarter about their lending practices. Business Data Miners advocates building custom mathematical models that take advantage of the lender's own data. Such a model allows a lender to predict with greater accuracy the probability of a loan applicant to default.
One of our Business Data Miners' auto loan models has been in production for the past three years and has performed extremely well, significantly reducing losses and delinquency rates. As reported by the client, there has been annual loss reductions of approximately 20% from pre-recession levels, and approximately 50% from the losses experienced in the 2008-2009 time frame. Savings are in the tens of millions of dollars.
"A salient characteristic of this work is the ability to balance the costs to the lender with the number of outstanding loans made," said Dr. Larry Bookman, Co-founder and CEO at Business Data Miners. "The graph shows how we optimize loan costs. The model combines the effects of lost opportunity costs (turning away good customers), bad debt (write-off associated with a bad loan), and operational costs (costs to run the business)."
About Business Data Miners
Business Data Miners are experts in creating real value for clients through the use of data analytics. Business Data Miners builds custom predictive models based on a clients' own data to help them make informed, data-driven decisions that improve their bottom line. Business Data Miners has saved clients hundreds of millions. For more information, visit http://www.businessdataminers.com