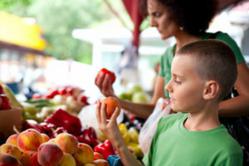 [Local food] is just healthier, it tastes better, your food is fresher, it hasn't spent days on a truck, and also it economically supports farmers in the area
Los Angeles, CA (PRWEB) July 25, 2012
The local food movement is gaining more momentum in the U.S as indicated by government data used to create the 2012 Locavore Index. By choosing to eat produce grown close to home, a "locavore" commits to eating fresher food that traveled shorter distances to get to their plate. Vermont-based family-farm advocacy group Strolling of the Heifers made the list as an indicator of how each state ranks in their dedication to raising and eating local food.
By using data solely from government sources such as the U.S. Department of Agriculture (USDA) and the U.S. Census, rankings were determined by the per capita presence of community-supported agricultural farms and farmers markets in each state. This indicated both the availability and demand for local food in a given area.
Ranking at the top of the list were Vermont, Iowa and Montana. Rounding out the bottom of the list were New Jersey, Arizona and Florida. Strolling of the Heifers General Manager Martin Langeveld said "locavorism" is on the rise in every state, no matter their ranking.
"One of the things that happened in the last 10 years or so is that the number of farms nationally and virtually every state, as measured by the USDA, has been going up. The reason is there's a lot more small and diversified farms going into business," said Langeveld. "But what a state can do specifically to encourage more local food purchasing…is make sure you have a good farm to school project."
Healthy Works, a component of a San Diego County-based wellness initiative, has several farm to school projects. These partnerships teach children about the importance of agriculture and include projects such as school gardens where fresh produce is grown right outside the classroom.
San Diego-based Registered Dietitian Michelle Zive and Executive Director of Healthy Works for University of California San Diego said she was disappointed to see California ranked at number 41 on the Locavore Index. Zive said San Diego has the largest number of small and organic farms in the country, yet most of it is shipped out of the county. Shopping for locally-grown food is a win-win situation, said Zive, because it can boost a local economy and provide healthier, fresher food.
"For every dollar that goes into a local farmers pocket, 90 cents gets spent throughout the local economy, so economically, it makes a lot of sense…it's a little more expensive but the benefits of health and to the environment and economy will exceed that," said Zive, adding that many farmers market accept food stamps.
Eating local food is one component of ensuring a healthier lifestyle and benefiting the local community, said Dr. Hooman Shabatian, a Los Angeles based weight loss surgeon.
"By making the commitment to spend even a small fraction of a food budget at farmers markets, shoppers can purchase more organic produce which hasn't been subjected to artificial fertilizers or pesticides," said Shabatian.
The goal of the "locavore" is not only to eat fresh, local food, but to become part of a more sustainable food system. One of the touted benefits of shopping locally is that the food travels fewer miles to get from the farm uses less fuel energy in transportation. Supporting local food has a number of benefits for both the community and the individual, according to Strolling of the Heifers.
"[Local food] is just healthier, it tastes better, your food is fresher, it hasn't spent days on a truck, and also it economically supports farmers in the area by circulating locally instead of going to some global agricultural operation flying in blueberries from Chile," said Langeveld.
The Locavore Index will be updated next year with new information provided by the USDA Census of Agriculture, which is conducted every five years. The Census of Agriculture measures the volume of agricultural sales and is the only source of uniform, comprehensive agricultural data for every state.
For more information about the 2012 Locavore Index and to see a complete ranking of states, visit http://www.strollingoftheheifers.com/home/181-locavore-index-2012.