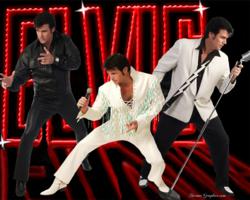 Only tribute artist hired by Elvis Presley Enterprises to perform at Graceland's Heartbreak Hotel
Fort Lauderdale, FL (PRWEB) July 23, 2012
35 years ago (August 16, 1977) we lost one of the greatest entertainers and pop culture icons of our time, Are you still lonesome for the energy, charisma and incredible voice of one of the most enduring icons of our pop culture? Then come celebrate the life and music of Elvis Presley at the Broward Center for the Performing Arts on August 18,2012, when tribute artist Chris MacDonald presents Memories of Elvis in Concert. Elvis Presley, recognized by TIME magazine as the "Artist of the Century," has sold more records than any other artist or group in the history of modern music. Even after death, his image and music continue to be loved and celebrated throughout the world. July 5, 2004 was established as the official 50th Birthday of Rock-n-roll commemorating Sun Records release of Elvis Presley's song "That's all right Mama". With recent number ones on Billboard and Great Britain's charts, new releases of master recordings,film and television licensing ,and a hologram in the works,Elvis once again proves he is gone, but not forgotten.
Keeping the memory alive at countless venues throughout the country Chris MacDonald lovingly brings back the magic of the "King of Rock-n-Roll" with his tribute Memories of Elvis.
Chris's show is not an overdone impersonation. It is a natural heartfelt tribute to the King of Rock-n-roll. Adding to the authenticity of his tribute, Chris has the honor of being the only tribute artist hired by Elvis Presley Enterprises to perform at Graceland's Heartbreak Hotel for 7 consecutive years. An energetic and experienced entertainer, MacDonald has also performed in venues throughout the country including Vegas, New York, and Miami and with the famous LEGENDS IN CONCERT stage productions in Branson, MO, and at the Hard Rock Hotel and Casino in Hollywood, Florida. He has also performed in Concert with Elvis Presley's original back up group the Jordanaires and D.J Fontana.
Not only is the charismatic MacDonald superb in performing as Elvis, this versatile performer has an extensive repertoire spanning from the 50's through today including contemporary country music in addition to some of his own original music. MacDonald's solid vocals have also earned him Broward County's Florida Country Music Association's (FCMA) Male Vocalist of the Year award and a feature track on The Deuces Wild compilation CD which received the FCMA Best CD of the Year award. Chris has a new original country CD recorded in Nashville entitled No Misconception. All songs on the CD were recorded with harmony vocals provided by the legendary Jordanaires. The songs are available for digital downloads on iTunes or his website chrismacdonaldselvis.com. Also just released this year is a full live double CD recording of "Memories of Elvis Live in Concert" also available on iTunes and amazon.
With this newly updated national touring production, the show will include production numbers with costume changes and songs representing the different stages of Elvis's incredible career including the 1950's, the Movies, the 1968 Comeback and the 1970's White Fringe Vegas Concerts.
For two special shows August 18th at 8pm and August 19th at 3pm, MacDonald will bring back the memories of an All-American Legend in a truly dynamic performance complete with costumes and a high-energy concert band. Don't miss this Rockin tribute celebrating the life and music of one of the greatest entertainers and pop culture icons of our time.
Where: Broward Center for the Performing Arts
201 SW Fifth Ave., Fort Lauderdale, FL, 33312
http://www.browardcenter.org
Box office:954-462-0222
When : Saturday August 18,2012 8pm
Sunday August 19,2012 3pm
Ticket pricing: $42.50-$47.50