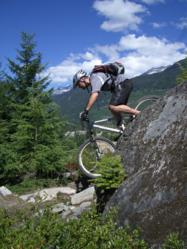 An unexpected finding was the number of closed head injuries despite the madatory helmet requirement.
Salt Lake City, Utah (PRWEB) July 02, 2012
In the last 30 years, the sport of mountain biking has soared exponentially in popularity. It is estimated that in 2009 38 million Americans regularly took part in the sport, sometimes called "free-riding," where the rider navigates steep slopes and technical terrain.
In a study published in the latest issue of Wilderness & Environmental Medicine (http://www.wemjournal.org), Ashwell, et al, investigated 898 cases of mountain bike park cyclist who presented to the Whistler Health Clinic in Whister, British Columbia, during a 5-month period. Eight-six percent of those injured were male. And, although the majority of patient injuries were rated as mild to moderate in severity, 12.3% of riders experienced injuries that were considered potentially threatening to life, limb, or function and 9.5% required transfer to a higher level of care.
The results of this research are the first attempt at describing the epidemiology of injury associated with lift-accessed free-ride mountain biking. They demonstrate the spectrum of morbidity of such injuries. The Whistler study findings suggest planning for increased staffing for injuries on weekends and during the month of August, and highlight the need for improved upper extremity protection and more effective head injury protection for this sport. The authors of this study suggest that given the relative rarity of injury from bike-to-bike crashes, injury prevention strategies will need to focus on methods for maintaining control of the bike. Additionally, the authors conclude that "further research should include exposure information as well as specific information about which trail features are associated with injury, evaluate the long-term outcomes after bike park injuries, assess the costs of care after injury, and attempt to identify acceptable injury rates in this increasingly popular sport."
The free full-text online article may be accessed at http://www.wemjournal.org. Wilderness & Environmental Medicine is published by Elsevier Inc., for the Wilderness Medical Society, Salt Lake City, Utah. http://wms.org.
The Wilderness Medical Society (WMS), a 501(c)3 organization, is the world's leading organization devoted to wilderness medical challenges and education. Founded in 1983, the WMS has long-standing commitment to education and research, sponsoring accredited continuing medical education conferences, and publishing a peer-reviewed quarterly medical journal Wilderness and Environmental Medicine.