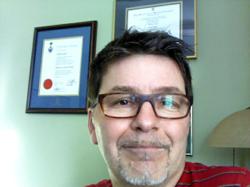 CBT is the Gold Standard of Mental Health Care
Toronto, ONTARIO (PRWEB) July 05, 2012
With nearly 25 years of experience CBT therapist Stephen Giles's is launching a new website: cbt-toronto. He is Certified in Cognitive Behavior Therapy, also known as CBT. CBT has a proven track record and is the gold standard method in helping people overcome a variety of issues including; Depression, Anxiety, Abuse and Trauma, Low self esteem, Addictions and Anger Management to name a few. Click here to see Stephen's video about how cognitive behaviour therapy.
CBT-TORONTO is based in Central Toronto on the Bloor Subway line and offer convenient weekday, weekday evenings and weekend appointments. I offer a free consultation and a convenient real-time on-line booking button which allows you book a session right now in a matter of seconds.
Cognitive Behavioral Therapy (CBT) is backed by clinical research that has shown it to be one of the most effective treatments ever offered. In many cases it is effective as or better than medication therapy. CBT is the therapy most often recommended by doctors and registered healthcare professionals. Call me today for a free consultation - I look forward to helping you get back on track!