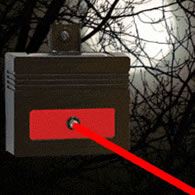 Comments about Duncraft Nite Guard Solar:

I tacked mine to a tree overlooking a well-travelled coyote trail from the woods to my yard and haven't had a single predation since.
Concord, NH (PRWEB) July 03, 2012
Nocturnal animals can steal bird feeders, ruin gardens, attack livestock and worse. Duncraft now offers the The Nite Guard Solar, a solar powered device that deters nighttime predators with a simple principle—a flashing red light that mimics the eye of another animal. It works! Predators feel threatened and stay away!
The two most common nocturnal animals that are likely to raid bird feeders at night are bears and raccoons. Duncraft strongly advises customers not to put out bird seed or bird feeders if bears are in the area. Bears in people's yards seeking out bird seed or suet is to be avoided at all costs. Not to mention the price of replacing smashed bird feeders! If raccoons are a problem, Duncraft has been recommending that customers take feeders in at night when these animals are most active.
Now Duncraft can offer customers another option for deterring nighttime raiders such as raccoons and flying squirrels and also more destructive nighttime predators such as owls, foxes, coyotes, deer, skunks, bears and even wild boars. Although the Nite Guard does deter bears, Duncraft does not advise using it to keep bears away from bird feeders. The Nite Guard Solar charges during the day with sunlight. When evening arrives, the unit turns on automatically and gives out a pulsing red light that a predator perceives as the eye of another nighttime animal. Predators do not want to confront another, possibly larger and more dangerous animal. They feel threatened and stay away from the area.
The Nite Guard Solar is housed in a waterproof casing and uses only solar power. There are no batteries to be replaced. It comes with screws for mounting on any vertical surface. Each unit covers a 30 degree radius. Multiple units are needed for 360 degree protection. The unit should be placed at the eye-height of the offending predator. The guard should be moved on occasion so nighttime animals don't become accustomed to its presence. Duncraft offers the Solar Nite Guard singly or as a set of four on their website, http://www.duncraft.com.
Founded in 1952 and located in Concord, New Hampshire, Duncraft's objective is to bring the joy of backyard birding to wild bird lovers all across the country. Mike Dunn, owner and CEO is constantly inventing and searching for innovative ideas in bird feeding—giving bird lovers years of bird feeding enjoyment, success and satisfaction.
Duncraft
102 Fisherville Road
Concord, NH 03303
603-224-0200