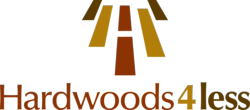 ...our best deals will never make it to our website, instead we post hardwood flooring on our facebook page and its sold within a day or two"
Greensboro, NC (PRWEB) July 10, 2012
Would you like to cut the cost of installing hardwood flooring in your home?
Here are four ways how to do that. It is as easy as one, two, three...
1. Do Your Homework
You want to spend your hard-earned cash with a reputable company, known for providing quality hardwood flooring and doing great business.
Clayton Peebles, owner of Hardwoods4less.com says, "Take your time to avoid frustrations and major headaches."
You also want to buy from a company with prices that are easy on your wallet.
To see if a company's right for you, do a little research. Visit their page on the Better Business Bureau (BBB) website where you can view their BBB rating.
While the BBB rating is a great starting point, it shouldn't be the only resource you use to determine if a company's right for you. Customer testimonials or reviews also provide some insight.
Don't forget about online retailers.
Typically online hardwood flooring retailers have lower overhead costs than brick and mortar stores. And because they're online, it's also possible to save on sales tax in most states.
2. Shop For Deals
One of the best ways to find true hardwood flooring deals is to look for closeout sales. While larger lots are possible to come by, this is a great way to save money on smaller wood floor projects, typically those under about 200 square feet.
When it comes to a closeout sale, the store may never carry that particular hardwood flooring option ever again, so make sure you know exactly how much flooring you need to complete your project by measuring your space(s) correctly.
Be cautious when buying closeout sales. Make sure you understand what common hardwood flooring terms, like "shorts", mean, and know what you should be getting for your money.
Another tip: Connect with companies on social media sites like Facebook and Twitter. From time to time, they may post one-day deals or specials, some that are exclusive to subscribers.
"Some of our best deals are on close outs. Let's face it, we want to sell the last boxes of a type of hardwood flooring to make room in our warehouses for more product," says Peebles. "Many times our best deals will never make it to our website. Instead they are posted on our facebook page and are typically sold within a day or two"
3. Save on Shipping
There are two main ways to save on shipping.
Know a commercial business with a truck dock and forklift you can borrow? If so, expect to save between 10-20 percent if you can have your flooring shipped there. However, you still have to get the flooring to your job site. Sometimes it's worth it; sometimes it's not.
Another way to save on hardwood floors? Pick the hardwoods up at the trucking terminal. Savings vary, but again, you still have to get the hardwoods to your site.
Keep in mind, hardwood flooring is packaged in boxes usually measuring 84" x 11" x 4" and typically weighing between 50-65 pounds per box.
"Shipping is a critical factor with our customers' decisions to buy. Shipping can run as much as 30% of the total cost. If customers are flexible, shipping costs can be reduced" Peebles says.
4. Install Them Yourself
If installing flooring is something you can handle, save possible thousands on labor costs.
For example, the average cost to nail down hardwood flooring is between $2.50 and $3.50 per square foot. The total installation cost can go up or down depending on the wood species, installation method, and condition of your subfloor.
Even if you just do part of the installation yourself - for example rip out the old carpet - you can still save a pretty penny.
Try these tips to save money on your hardwood flooring installation, while improving the value of your home.
Hardwood Flooring Project Cost Worksheet
Business Information
Hardwoods 4 less, LLC
1921 Strathmore Drive
Suite A
Greensboro, NC 27410
Phone; 888-705-7555
Fax; 336-273-1598
Website; hardwoods4less.com
Email address: Sales(at)hardwoods4less(dot)com
Affiliations;
Better Business Bureau
National Hardwood Flooring Association