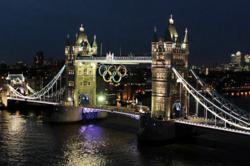 London (PRWEB UK) 2 July 2012
With the London Olympics rapidly approaching, hundreds of thousands of visitors will be flocking to the city capital within a matter of weeks. Many locals are looking to take their holidays during this period to escape the frenzy of the city during the games, and some property owners are even trying to rent out their property to visitors whilst they're away from home. Suppliers of Lock up Garages, are expecting a boom in business during the games as a result.
It seems from recent news coverage that a great deal of people with property in London are thinking this would be a great way to earn a bit of extra cash during the Olympics. If you're one of those people then you may wish to consider storing your valuable items elsewhere whilst strangers are staying in your home.
Lock Up Garages, a garage rental firm based in London are offering their services as storage solutions for people who want to empty their properties of such items during the period they will be renting them out. Stephanie Bentley, a spokesperson for Lock up Garages made the following statement;
"We realise that our garages could easily double as storage space for people wanting to clear their homes for guests during the Games, and as such we welcome people to hire out facilities for this reason"
The number of people in the city offering their homes for rent over the Olympics shows that it's not just businesses that will be profiteering from the hoards of international guests that the city will have to accommodate through July and August. The owner of a London based estate agents made an estimate in the Guardian on July 8th that a family home in close proximity to the main Olympic stadium could be rented out for a sum in region of £3,000 to £4,000. It's unsurprising that many London dwellers, especially those that were unable to acquire tickets for the games are eager to capitilise on the money coming into the city during this period by renting their properties.
"Storage facilities are likely to be full to capacity over summer, so we encourage people to make use of our rented garages to store their possessions if they're hiring out their property to guests!"