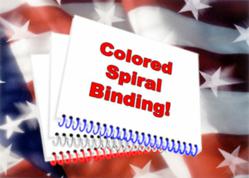 SAN LUIS OBISPO, CALIFORNIA (PRWEB) July 02, 2012
With the launch of their new and improved website, Docucopies.com has also unfurled a colorful array of new product offerings. Most significant are the new color options available for plastic coils used in spiral-bound-books: red, white and blue. The company also offers clear coils in addition to the black coils which have always been available.
Despite the timing for the launch of these patriotic colors, the management insists this wasn't an orchestrated marketing gimmick.
"We've been planning to offer these new binding colors for months," says Marketing Director Jeff Corbo. "But the fact our new site is up and running so close to our nation's birthday is a nice coincidence."
Other additions to the site include options and products which were previously available but not yet integrated into the website's state-of-the-art, automated order forms. Among these are:

3-Ring Clearview Binders (white and black)
Printed Tabs (available in color and B&W)
Right Angle Tri-Folding and Half-Folding for 11"x17" sheets
First-Class Bulk Mailing
America would be a much different place without the richness of culture it gets from its neighbors. In honor of this, Docucopies.com has extended their shipping area to Mexico and features an option to view the site in Spanish. Perks for international clients also extend north, as the company now has reduced shipping rates for Canadian customers.
Recently Docucopies.com expanded to California by opening a production center in San Luis Obispo. This has delighted their thousands of West Coast customers, as free one-day shipping is now available to nearly all of the Golden State. This has helped solidify their place as one of the nation's leading producers of low-cost color copies and digital printing with the most competitive pricing on the web for its huge line of products, including color copies, brochures, books, booklets, letterhead, and more.
For more information log on to http://www.Docucopies.com.
###