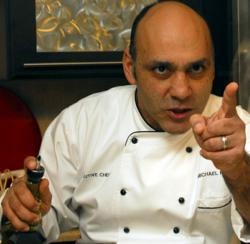 explore not just the hows, but the WHYs of food and cooking
Milwaukee, WI (PRWEB) July 12, 2012
Welcome to Feker's Kitchen! FOX 6 Wake Up and Real Milwaukee viewers are familiar with Chef Michael Feker and his infectious enthusiasm for all things culinary. Now FOX 6 brings Chef Feker's excitement to southeastern Wisconsin with a new weekly, half-hour program, Feker's Kitchen. This one-of-a-kind cooking show airs Fridays at 11:30am on FOX 6, again Saturday morning at 6:30 on FOX6 and then Sunday evening at 7 on channel 6.2 or 986. Culinary tips and videos can be viewed online at fekerskitchen.com
Local chef Michael Feker is on a mission to get viewers back to the table to share nourishment, conversation and togetherness with family and friends. To do so, Feker will take viewers through the kitchen and explain the fundamentals of cooking. He'll explore not just the how's, but the WHY's of food and cooking. On upcoming Feker's Kitchen episodes, Chef will discuss flavor essentials, tools and techniques, why chicken, pleasing picky palates, and so much more. He's going back to the basics to bring creative and delicious experiences to Feker's Kitchen viewers.
"I am blessed and honored to finally have an outlet to showcase my love for food — I mindfully allow food and flavors to be the backbone of the culinary journey that everyone experiences with me. I want my viewers/guests to become recipe creators, not recipe followers," shares Feker.
"We're excited to welcome Fox 6 viewers to Feker's Kitchen, the only locally produced cooking show on broadcast television in the market," said Chuck Steinmetz, President and General Manager of Fox 6 WITI. "Chef Feker is an accomplished local chef, and we're glad to showcase his talent and knowledge with the new show." Feker's Kitchen premieres Friday, June 29, 2012 and can be seen weekly on Fox 6 at 11:30am, with encore airings Saturday mornings at 6:30 on Fox 6 and Sunday nights at 7:00 on digital channel 6.2.
Chef Michael Feker is an accomplished chef with over 20 years experience of culinary experience. He learned under the tutelage of renowned chef Roberto Gerometta and has owned restaurants in Los Angeles, Milwaukee and in Wauwatosa. He specializes in traditional Italian/Mediterranean cuisine at his restaurant IL MITO Trattoria e Enoteca in Milwaukee, and is also a culinary instructor, owning and operating the Culinary School of Magic, in Wauwatosa. With his vast culinary knowledge of the chemistry of foods of all cuisines, classical French training, world travels and experience, chef Feker is a culinary innovator who strives to share his culinary knowledge with others in hopes of bringing health, joy and flavor into their lives.