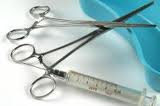 more than 1,000 lawsuits pending against Ethicon, Inc. by patients alleging organ damage and other injuries from the implants
San Diego, CA (PRWEB) July 04, 2012
The media spotlight is often a double-edged sword. No one knows this better than Lou Ellen Hobbs. And yet, gossip and rumor-mongering aside, the real story here is being overlooked according to Sean Burke of AttorneyOne.
According to court documents, on May 11th, 2012, New Yorkers, Lou Ellen Hobbs and Earl Hobbs, filed a lawsuit "Hobbs et al v. Boston Scientific Corporation" in New York Western District Court (case no. 1:2012cv00437) alleging Lou Ellen Hobbs suffered severe complications from her Transvaginal Mesh leading to a second surgery. Surgical Mesh is used to treat pelvic organ prolapse (POP) and Stress Urinary Incontinence (SUI). Plaintiff received her Transvaginal Mesh in 2008 and started suffering from recurrent urinary tract infections. A few years later, she underwent a second surgery to help her treat the complications.
The lawsuit was transferred to the Multi District Litigation case taking place in West Virginia where three transvaginal mesh litigations were consolidated into a single proceeding. Boston Scientific Corp. (MDL No. 2326) is among the defendants.
AttorneyOne.com, a recognized authority on law, can provide helpful advice and simple solutions including how to get in contact with legal counsel so that, in case of severe adverse events from Transvaginal Mesh, someone can easily and inexpensively deal with it. As Mr. Burke, director of Media Relations for AttorneyOne.com, added, "What all this information really illustrates is that threat from Transvaginal Mesh remains. For that reason, our focus should squarely fall on getting the word out and assisting people in finding the right legal assistance."
J&J's Ethicon announced that it will stop marketing the majority of its Transvaginal Mesh products, as published in Reuters and MedPageToday, on June 5th 2012. The products being discontinued are TVT Secur, Prosima, Prolift and Prolift+M. There are more than 1,000 lawsuits pending against Ethicon, Inc. by patients alleging organ damage and other injuries from the implants.
AttorneyOne.com has further information on Transvaginal Mesh lawsuits including how to get in contact with legal counsel.
Headquartered in San Diego, CA Attorney One was founded in 2004 and is not a law firm. They offer a nationwide legal service which helps consumers find the best representation for their legal needs. You can learn more about Attorney One at our website http://www.attorneyone.com. You can also find us on Facebook at http://www.facebook.com/AttorneyOne. Checkout earlier news from us at http://www.prweb.com/releases/2012/6/prweb9650179.htm.