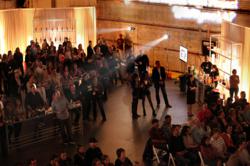 Steven J. Wolfe, Producer: 500 Days of Summer "This event really captures what's so special about Los Angeles."
Los Angeles, CA (PRWEB) July 05, 2012
Just two weeks ago NewFilmmakers Los Angeles, in partnership with the LA Tourism and Convention Board and LA Weekly announced a call for submissions for the second annual On Location: The Los Angeles Video Project. The competition is an initiative aimed at challenging local filmmakers to showcase the many wonderful facets of Los Angeles in four minutes or less.
This arts and cultural multimedia filmmaking program spearheaded by the non-profit cinema organization NewFilmmakers Los Angeles is working with numerous sponsors and partners all around the city such as Mole-Richardson Co, Equilibrium Entertainment, LA Film School and Columbia College Hollywood among others asking filmmakers the question; "What is your LA?"
The program aims to positively emphasize each artist's view of Los Angeles to the rest of the world in a narrative, documentary, montage, experimental, commercial, animated or new media format. The finalists' works will be used to highlight their filmmaking talent as the videos Premiere in Hollywood on September 29th 2012 and make their way around the globe via multiple channels of mass distribution.
In addition to a Premiere event and international distribution, prizes include:
One (1) Overall Grand Prize Winner: A Production/Post Prize Package valued at $25,000 from Equilibrium Entertainment and a $1000 cash prize for the video that best showcases and promotes Los Angeles as the premier global destination for tourists.
Two (2) 1st Place Prize Winners: $500 cash and a $750 Mole-Richardson Co. Production Rental Prize Package (one from each category) chosen by the judging panel.
Two (2) Audience Award Winners: $250 cash and a $50 Mole-Richardson Co. Studio Depot Gift Certificates (one from each category) chosen by the audience.
Last years inaugural event took place at Sunset Gower Studios in Hollywood. Speakers included Producer Steven J. Wolfe (500 Days of Summer), Director, Writer, Producer Demian Lichtenstein (3000 Miles to Graceland, Penance), star of the soon to be released Total Recall movie, Bokeem Woodbine (Ray, TNTs' Southland), Actor Max Ryan (Sex and the City 2, Death Race), Los Angeles City Councilmembers Tom LaBonge and Tony Cardenas and many other entertainment industry professionals.
The evening wowed attendees and fellow finalist artists alike with spectacular films showcasing the very best of Los Angeles and its creative energy. This competition genuinely celebrates Los Angeles as being one of the most vibrant, lively and innovative cities in the world.
To learn more about how to create and submit your film to the competition, please visit: http://www.newfilmmakersla.com/onlocation