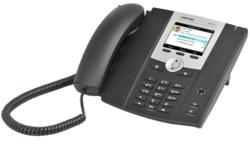 Toronto, ON (Microsoft WPC) (PRWEB) July 09, 2012
Aastra will be demonstrating its IP Phones Optimized for Microsoft® Lync™ as well as its award-winning SIP-DECT™ mobility solution at the 2012 Microsoft Worldwide Partner Conference (WPC) in Toronto, Canada. Aastra Lync phones deliver business productivity via integration with the Microsoft Lync desktop client, Outlook calendar, contacts and much more. Aastra representatives will be demonstrating live calls, including PC desktop control of calling features such as transfer, hold, call park, conferencing and click-to-dial, from July 9-12, 2012 in Booth #436 at the Toronto Convention Centre.
Both IP phone models, the Aastra 6721ip and 6725ip, have exceptional voice quality and stylish design; the Microsoft Communications Server integration offers user-friendly access to its features, making them powerful unified communications (UC) devices. Working together with Microsoft, the Aastra 6721ip and 6725ip phones were designed for a superior user experience to facilitate the adoption of unified communications, including:

an intuitive interface clearly displayed on a full color 3.5" LCD screen;
easy access to the most essential calling features through navigation keys; and
wideband audio which enhances the clarity of all calls, making it easier to understand all participants.
The 6721ip phone offers users selective functionality at a cost effective price point providing an entry level phone appropriate for many users or common areas; the mid-range, feature-rich 6725ip phone is designed for those needing additional functionality. Both models enjoy the same proven Aastra reliability and quality.
Aastra also delivers a mobility solution integrated with Microsoft Lync 2010, Aastra SIP-DECT™. SIP-DECT combines the tried-and-tested DECT technology with SIP innovation to provide great flexibility, as SIP-DECT can be used with Aastra communication systems, third-party systems and systems from SIP providers. Specifically, the combination of SIP-DECT with SmartSIP 2.0 from NET allows DECT handsets to be integrated into Microsoft Lync.
The combination of SmartSIP 2.0 with Aastra's SIP-DECT products delivers an enterprise-grade mobility solution for organizations deploying Lync, providing greater flexibility and mobility for those enterprises while enabling them to still take advantage of productivity tools delivered in a Unified Communications implementation. Benefits include:

Presence – users in an active call on a DECT handset are indicated as "busy" in Lync;
Excellent Voice Quality – Aastra's extended audio quality feature DECT XQ™ provides high-quality audio even in environments with reflective surfaces;
Central Phone Book – using an LDAP connector, users can choose up to three destinations to make outgoing calls;
Locating – a caller can be located through identification of the current DECT radio cell.
Aastra's SIP-DECT handsets operate just as any other SIP endpoint on the IP network, but provide the added mobility necessary in many industries such as healthcare, retail, hospitality, and distribution/logistics. One of the primary advantages of DECT technology over WiFi is that it operates in its own spectrum so that it doesn't compete for bandwidth with other devices, resulting in better quality and security through special encryption algorithms. Another big advantage is that DECT requires considerably less power than Wi-Fi so DECT phones have much longer talk and standby times. Aastra's SIP-DECT is also highly scalable and includes a variety of handsets to suit a range of business requirements.
Please visit Aastra in Booth #436 at Microsoft WPC for a demonstration of our Lync and SIP-DECT phones, or check http://www.aastrausa.com/lync for more information.
About Aastra USA
Aastra USA Inc. is the US business unit of Aastra Technologies Limited, a company at the forefront of the enterprise communication market. Headquartered in Concord, Ontario, Canada, Aastra develops and delivers innovative communications products and applications for businesses. Aastra's operations are truly global with more than 50 million installed lines around the world and a direct and indirect presence in more than 100 countries. Aastra is entirely dedicated to enterprise communications and offers IP telephony and Unified Communications solutions individually tailored to satisfy its customers' requirements. These range from feature-rich call managers for small and medium businesses and highly scalable ones for large enterprises, integrated mobility, call center solutions to a wide selection of terminals. With a strong focus on open standards, Aastra enables enterprises to communicate and collaborate more efficiently. For additional information on Aastra, visit our website at http://www.aastrausa.com