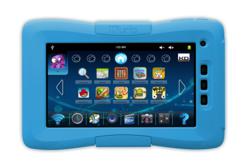 Los Angeles. CA (PRWEB) July 09, 2012
Free online kids channel Toon Goggles (http://www.toongoggles.com) is partnering with Techno Source to pre-load the Toon Goggles app on the new Kurio7, the advanced Android-based tablet designed for families with children and teens, currently available for pre-sale at Toys-R-Us, and launching nationwide beginning this month, July 2012; announced by Stephen Hodge, Managing Director, Toon Goggles.
Toon Goggles will be embedded on every Kurio7 Android™ Tablet sold in the U.S., providing instant access to the ever growing Toon Goggles library of safe, child and parent friendly video content, currently featuring over 1200 hours of entertainment and educational programming.
The Kurio7 solves problems typically associated with tablets that are passed from parent to child; allowing for safe Web surfing through fully customizable internet controls, while prohibiting the "accidental" purchase of apps. Additionally, users can safely surf the Web, read e-books, draw, play games, take photographs, record video, watch movies and more.
"We are excited to be joining with Techno Source as a top-tier provider of kids' content on the incredibly innovative Kurio7 tablet and pleased to be associated with this new effort to make Web browsing a safe experience for families while delivering appropriate content to children and teens," said Hodge.
The 7" tablet comes preloaded with top-tier kids' content including some of the most popular games, e-books, videos, and educational content available, ensuring its value right out of the box. Toon Goggles is also embedded (recently announced) on the UK's Inspiration Works' Kurio7 tablet due for release next month, and in forthcoming months will be available in France, Spain, the Netherlands, Denmark, Sweden, Finland, Norway, Switzerland, and Germany.
"Kurio7 was designed to give parents peace of mind when sharing tablets with their children, and to provide kids the entertainment they are clamoring for. Toon Goggles delivers on both fronts with quality programming parents can trust and kids are certain to enjoy," said Eric Levin, Division Head, Techno Source.'
Designed by KD Interactive, The Kurio7, Wi-Fi enabled tablet allows parents to create up to eight unique login profiles, offering different levels of Internet access for each member of a household. Each profile is governed by advanced parental controls, found in a password protected area. The easy-to-use system includes a fully customizable internet content filtering system designed to allow access only to Web content that fits parameters set by parents. It also allows for the choice of which apps are available for use in each profile, as well as controlling access to the app store. Additionally, Kurio7 provides parents with the ability to limit session times and can allow access only during certain hours each day. Importantly, they can change the controls for each user profile, expanding access as their children become older. A significant benefit of the device, Kurio7 does not make value judgments for parents, allowing parents to decide what is appropriate for their kids.
Launched in 2011, ToonGoggles.com is a free portal that provides valuable viewing data to content producers. Toon Goggles is a destination where children can enjoy an ever growing library of entertaining programming that is pre-screened and determined to be safe and age appropriate for children under the age of 13. Hundreds of content producers from around the globe are currently supplying animated features, programs, series, clips and trailers to Toon Goggles' rich library that children can enjoy and parents can feel good about.
Toon Goggles iOS app is also available for download in the iTunes App Store.
About Toon Goggles
ToonGoggles.com is a safe and protected children's entertainment online channel offering a vast amount of child and parent friendly cartoons (clips, trailers, episodes, games and features) for free. Toon Goggles is fully COPPA-compliant (Children Online Privacy Protection Act), boasting a strictly enforced screening process to ensure that all content presented is clean, safe and age appropriate. Our site is also available on all smart phones and tablet computers for viewing anywhere, at any time.
We feel that children should be able to view cartoons based off their own likes and interests. We make it simple for them with six different category offerings and an easy keyword search box. At Toon Goggles, children can create their own Facepage and add their favorite cartoons to their Toonstrip for future viewing. We want children to be in charge of their viewing experience and watch the content they want, when they want and where they want. As such, we encourage parents to review Toon Goggles and participate in their children's viewing and browsing experience.
About Techno Source:
Techno Source, a division of LF Products (a company of Li & Fung Limited (SEHK:494)), is one of the fastest growing global toy companies. Known for its ground-breaking products, marketing prowess and strong retail relationships, the company is committed to delivering high-quality toys and games that offer significant value at affordable price points.
Under its original Techno Source brand, the company focuses on innovative products, great games for the whole family, and technology toys. Its award-winning original and licensed toy portfolio includes Kurio™, Glow Crazy™, Battle Lights™, Codee, 20Q®, Tetris®, Disney®, Rubik's®, Nickelodeon®, Intellivision™, Guess What I Am!™, and Electronic Touch-Screen Sudoku™.
Under its Toy Island brand, Techno Source offers a wide range of traditional toy products, including puzzles, figures, collectables, play sets, vehicles, plush, stationery, art activity sets, and magic toys. Co-branded products feature top licenses, including National Geographic®, Barney™, Marvel®, Hello Kitty®, Animal Planet™, Where's Waldo? ®and Loteria™.
Techno Source toys and games are available throughout North America, South America, Europe, Asia, Africa, and Australia, across all channels of distribution.
For more information, visit http://www.technosourceusa.com..