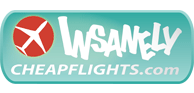 I don't want to be here, either.
(PRWEB) July 03, 2012
InsanelyCheapFlights.com has a message for the thousands of people still without power in Maryland, Virginia, and Washington, D.C. "Get Out."
"The power's out and it's over 90 degrees again," says Steve Oliverez, founder of northern Virginia-based InsanelyCheapFlights.com. "I don't want to be here, either," he says. To that end, the website is currently discounting nearly every flight leaving the D.C. area's three major airports. Travelers booking flights departing from Reagan National (DCA), Dulles International (IAD) and Baltimore Washington International (BWI) can use the promotional code provided on the site to save on their bookings.
"It's in the mid-sixties in Seattle," says Oliverez. Flights from the city of Washington to the state of Washington are covered under the discount. "If you ever wanted to see the Space Needle, now is the time." Of course there's plenty more to do in Seattle, from Pike Place Market to the Museum of Flight, but whatever the choice, it's sure to be more enjoyable than waiting for the power to come back on.
Oliverez expects most of the site's users will take advantage of the promotion to visit relatives in other states, particularly those states unaffected by the current heat wave. For those travelers who like it hot, however, flights to Miami are also part of the sale. "You could also use the site to find a nice, air-conditioned hotel," notes Oliverez.
International travelers can take advantage of the promotion. Flights to Paris, where the temperature is currently in the mid-seventies, are also discounted. Whether checking out the Eiffel Tower or Notre Dame Cathedral, the City of Light is a good location to wait for the lights to come on back at home.
Since its 2009 founding in Sterling, VA, InsanelyCheapFlights.com has been focused on helping travelers find the cheapest flights available. While the site also offers hotel room and car rental bookings, flights have remained crux of the site's business. The promotional code is found on the site's homepage, and applies to service fees when booking airline tickets.