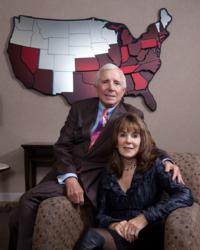 Scholarships from The Michaels Organization Education Foundation have helped many high achieving, but economically disadvantaged students achieve their dreams of higher education
Marlton, NJ (PRWEB) July 05, 2012
The Michaels Organization Educational Foundation, a nonprofit affiliate of The Michaels Organization, announced today that 145 educational grants have been awarded to aspiring students who reside at rental communities owned or managed by companies of The Michaels Organization. The grants can be used by the recipients to cover education expenses at any accredited college, university, or vocational training program in the country.
This year's grants, totaling $315,000, match latest year's record, and is a dramatic increase from just two years ago when The Michaels Organization Education Foundation distributed $125,000 to 70 students.
"We are so gratified to see more residents taking advantage of this opportunity to further their education and we are extremely grateful to our business partners and vendors for their generous contributions to the Foundation," said Michaels' Chief Operating Officer, John J. O'Donnell.
"We are committed to giving back to the communities where we work and what better way than investing in the educational dreams of our residents," O'Donnell said.
All private contributions to the scholarship fund are matched two-for-one by The Michaels Organization's founder and CEO Michael J. Levitt and his wife Patricia Levitt, who established the foundation in 1991. Since then, more than $2.8 million in scholarships have been awarded, benefitting more than 1,300 students.
Any resident who lives in Michaels owned or managed housing is eligible to apply, including those on the four Army bases and two Air Force bases where Michaels is developing and managing family housing. In addition to the military bases, scholarships were awarded to residents across the Michaels portfolio, which comprises 330 affordable and mixed-income communities across 32 states, the District of Columbia, and the U.S. Virgin Islands. This includes four residents of Kuhio Park Terrace in Honolulu, Hawaii, Michaels' first-ever development in the island state.
This year also marked the largest private donation ever received by the scholarship fund – a $38,000 gift from the architectural firm Torti Gallas & Partners, which was specifically earmarked to benefit Michaels' residents in New Orleans, where Michaels and Torti worked together on the HOPE VI revitalization of The Estates at New Desire. Seven students from New Orleans have been awarded scholarships this year.
Scholarship recipients receive grants ranging from $500 to $3,500, which are sent directly to the institution of higher learning for use toward educational expenses. Scholarships are awarded annually, and students may reapply each year for continuing grants.
To qualify, an applicant must be a high school graduate or have earned a GED with a grade point average of 2.5; college students must maintain a grade point average of 2.3. All applications are reviewed by independent educational consultant, Dr. Bruce W. Johnson, who has been involved with the program since its inception. Dr. Johnson also assists recipients by providing them with information about government-sponsored financial aid programs, for which they may be eligible.
Throughout its history, scholarships from The Michaels Organization Education Foundation have helped many high achieving, but economically disadvantaged students achieve their dreams of higher education, including many non-traditional and older students, many of whom never had a chance earlier in life to go to college or vocational school. The scholarships have made it possible for them to earn their degrees, advance their careers, and improve the economic circumstances for themselves and their families.
About The Michaels Organization
Headquartered in Marlton, NJ., The Michaels Organization is a family of eight integrated but independent operating companies dedicated to excellence in affordable, mixed-income, military and student housing. Our companies include Michaels Development Company, the largest private-sector owner of affordable housing in the country, Interstate Realty Management, Michaels Military Housing, Michaels Management Services, University Student Living, Prestige Building Company, Prestige Affordable Housing Partners, and Continental Mortgage Corp. Our capabilities include all aspects of development, finance, construction, tax credit syndication, property management, and award-winning social services programs.
About The Michaels Organization Educational Foundation
Formerly called The Interstate Realty Management Educational Foundation, The Michaels Organization Educational Foundation is a non-profit affiliate of The Michaels Organization, which administers an educational scholarship programs open to all residents of Michaels' owned and managed properties. Now in its 21 year, The Michaels Organization Educational Foundation was the first of its kind in the affordable housing industry when it was established by Michael and Patricia Levitt in 1991.