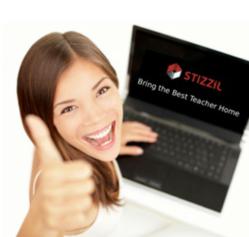 Imagine that you could be sitting in the comfort and safety of your living room with the best possible teacher by your side.
Los Altos, CA (PRWEB) July 05, 2012
Education today is broken. When budgets need to be cut, education takes the hit; fewer classes, no arts programs, teachers laid off. Take it online and it gets worse - boring webinars, no interactivity, no personalization, high school students as tutors.
Elaine Sigal, an educator for over 30 years, wanted to leverage her experience as both a teacher and an entrepreneur to bring real change to education. "As a longtime classroom teacher, I was frustrated that quality education couldn't be made available to everyone. Even online solutions weren't living up to their potential. I founded STIZZiL to fill that gap."
STIZZiL, an online lifelong learning company, recognizes that the most important and effective tool in education is the teacher. So imagine instead that you could be sitting in the comfort and safety of your living room with the best possible teacher by your side.
STIZZiL's unique approach begins by offering only carefully vetted U.S. licensed teachers, individually matched to the specific needs of the student. Together they develop a tailored program that uses state of the art educational web tools that incorporate live, face-to-face video interaction, and record and archive sessions for quality control and review. Mairead Leong, principal educator for STIZZil, notes, "the live element is critical. Teachers can see the students and vice versa, even when using white boards and other tools. So no falling asleep during boring lectures or using outside cheat sheets. It really is like having someone sitting next to you."
STIZZiL provides a wide range of topics for both immediate help and for lifelong learning. Core academic subjects (such as Math, English, Science, Foreign Languages, History, Art, and Music) provide the opportunity to brush up, catch up, or learn something completely new. STIZZiL also offers a full line of preparation sessions for standardized tests (PSAT, SAT, ACT, GRE, GMAT), as well as college preparation, guidance counseling, and overall application assistance.
The STIZZiL approach has proven quite successful. Last summer, students of all ages came to STIZZiL with a wide variety of learning needs: a dyslectic fourth grader seeking reading help, a gifted middle school child who needed more challenge, a college student prepping for GMAT's, and even a mom who needed assistance with her writing skills as she was applying for a new job. One previous student wrote, "I just wanted to update you on the good news! I've heard back from all the schools and I've gotten into: USC, UVA, and Columbia! I couldn't have done it without you."
By combining the best human elements with the best online tools, STIZZiL is committed to making learning fun, effective, and engaging. It is just like having your favorite teacher next to you.
STIZZiL is currently holding a promotion allowing new students that sign up by August 31st to receive a 20% discount when they apply. Please visit http://www.stizzil.com for more information.