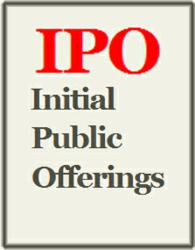 We Take Companies Public
Los Angeles, CA (PRWEB) July 04, 2012
IPO Initial Public Offering announces they are looking for qualified SEO, social media and marketing experts to help get their message out to business owners of private small businesses and start-up companies.
The IPO Initial Public Offering site recently announced that it was doing an international search for US or foreign corporations that would like to go public. The IPO website would like to find several good companies that desire to go public. This includes companies that are new, without any revenues, and with promising growth potential.
Currently social media and high tech companies are a sought after commodity within the Wall Street community. However, the IPO News site will consider any industry and stage of development. They welcome all companies to send an executive summary about their company.
So, the mission is to spread the word about the IPO company looking for companies that want to go public. This campaign can be done with social media, blogs, videos, viral marketing or traditional marketing. We are seeking the help of individuals that would like to assist us with this endeavor.
This is a non paying project. This could be a fun way for students, a class or people who are up and coming in the area of internet marketing to work on a fun project. This will allow someone the opportunity to get real world experience. In time it is possible it could become a paying position. For those that may have any unique marketing ideas the IPO information site would be open to learning more about them. They are not limited to internet marketing.
The initial public offering website is enlisting the help of the web community to assist them with this project of finding a company that would like to go public. If an indvidual has any marketing ideas to promote their search for companies to go public they would love to hear from those people.
For those that may know of a good candidate company, or are good at search engine optimization or social media promotion, they want to hear from those people. If a person is interested in IPO's, have ever wondered, how does a company do an ipo or just want to learn about the initial public offering process or marketing and want to make a difference our firm would like those people to contact us.
The IPO websites search is for someone who may be an expert with Facebook, LinkedIn, Twitter, Google+, Tumblr, Technorati or any other websites that would be very helpful.
Feel free to forward this press release to any business colleague or re-post on any relevant blogs or websites. Information can be sent to the IPO company via: ipoinitialpublicofferings.com
About Us:
Contact Person: Bill Truman
IPO Initial Public Offerings
We Take Companies Public Including Start Up Companies
Email: information (at) IPOinitialpublicofferings (dot) com
Website: www (dot) ipoinitialpublicofferings (dot) com
Tele: 310 888 1195