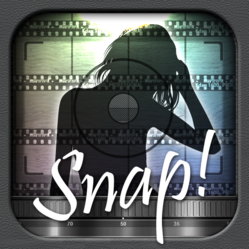 Kdan Mobile Offers Limited Time Sale on Its iPhone Photo App Pocket Snapper
(PRWEB) July 05, 2012
Kdan Mobile Software, a mobile software application developer, announced today that it is offering a limited time sale on its iPhone photo app, Pocket Snapper – iModel and Virtual Studio. The app is offered now at a special price of $0.99 (50% discount). To further enrich user experience, the company also revealed its plan to update Pocket Snapper with video recording function and allow users to capture images from their self-recorded videos. Meanwhile, Kdan Mobile is holding the "I Record, I Share, I Model" event for Pocket Snapper. Everyone is invited to share their short videos with the developer and win great prizes.
Pocket Snapper differentiates itself from other photo apps with its distinctive iModel mode, which enables users to capture images from the embedded video clips of glamorous models. The app is also equipped with professional camera functions and different editing options for users to customize their photo works. "Our ultimate goal is to provide an enjoyable photo taking and editing experience for both the amateurs and professionals," remarked Kenny Su, CEO of Kdan Mobile.
As Pocket Snapper gains popularity with novices and professional photographers, Kdan Mobile will soon release a major software update with a video recording function that allows users to take photos from their self-recorded videos. This grants users greater convenience to capture still images of moving objects such as a mischievous pet or take desired pictures in moving scenes such as dancing performances or plays. "The design aims to help users capture more valuable moments in their life," commented Kevin Huang, Chief Designer of Kdan Mobile. "In the near future, Pocket Snapper will also allow users to share their videos in the app's platform for more fun," added Huang.
About Kdan Mobile Software
Kdan Mobile Software is a company specializing in mobile application development. Kdan aims to bring a ubiquitous mobile operating environment to end users by providing innovative service and powerful technology. © 2012 Kdan Mobile Software Ltd. All Rights Reserved.