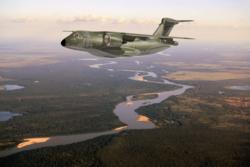 "We are very pleased to extend our business relation with Embraer participating in this new program teaming-up with LMI Aerospace
Farnborough, UK (PRWEB) July 09, 2012
Asco, a proven specialist of high lift devices and complex precision mechanical subassemblies for the aerospace industry, has signed a contract today with LMI Aerospace Inc. (U.S.A.), a leading provider of design engineering services, structural components, assemblies and kits for the aerospace and defense industries, to design and manufacture the slat track mechanisms for the new Embraer KC-390 military aircraft. This build to spec contract consists of a set of slat track mechanisms per wing and has been signed for the life of the program.
Asco and LMI teams have already started to cooperate together in the conception of the project through their respective design offices in Mukilteo, Washington, U.S.A., as well as through the respective headquarters of the companies.
All slat tracks will be machined, treated, assembled and delivered by ASCO to LMI's assembly facility in St. Charles, Missouri, U.S.A.
"We are very pleased to further extend our business relation with Embraer participating in this exciting new aircraft program successfully combining our core competence and experience with a new global partner and customer. Teaming-up with LMI Aerospace Inc. holds substantial mutual future potential" said Ivan Remels, CCO Asco Group.
First flight test articles of the KC-390 are planned for delivery to LMI in the spring of 2013, and to date, a total of sixty (60) aircraft purchase intentions have been formalized by Brazil, Argentina, Chile, Colombia, the Czech Republic and Portugal.
The award of the contract constitutes recognition by LMI Aerospace Inc. of Asco's leading capabilities in the design and production of high lift devices for the aerospace industry.
About Asco
Asco, incorporated in 1954, is a proven technology specialist and supply chain integrator in design, development, precision machining, processing, and certified assembly of complex high strength metallic aircraft components (high-lift devices, landing gear components, and engine attachments).
Asco is headquartered in Zaventem, Belgium with operating subsidiaries in Germany and Canada combined with service offices in Brazil and the US. Today, the Asco Group employs 1,300 people. Its worldwide, 100% Aerospace customer base includes most aircraft manufacturers as well as many related Tier-1 and Tier-2 suppliers.
http://www.asco.be
Contact:
Press@asco.be
asco@asco.be
About LMI
LMI Aerospace, Inc. is a leading provider of design engineering services, structural assemblies, kits and components to the aerospace, defense and technology markets. Through its Aerostructures segment, the company primarily fabricates, machines, finishes, integrates, assembles and kits formed close-tolerance aluminum and specialty alloy and composite components and higher level assemblies for use by the aerospace, defense and technology industries. It manufactures more than 30,000 products for integration into a variety of aircraft platforms manufactured by leading original equipment manufacturers and Tier 1 aerospace suppliers. Through its Engineering Services segment, operated by its D3 Technologies, Inc. subsidiary, the company provides a complete range of design, engineering and program management services, supporting aircraft lifecycles from conceptual design, analysis and certification through production support, fleet support and service life extensions via a complete turnkey engineering solution.