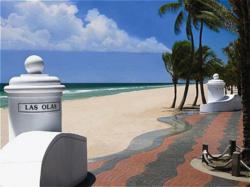 Washington, DC (PRWEB) July 05, 2012
Today America celebrates its independence from dirty beaches. Five years ago, the United States Senate and House of Representatives passed the National Clean Beaches Week Resolution by unanimous consent.
More than 50 events are occurring throughout the country in celebration of National Clean Beaches Week, from beach cleanups, to art fairs, to seafood festivals and recreational activities, all with the focus of appreciating and respecting our Nation's beaches.
In honor of National Clean Beaches Week, the Clean Beaches Coalition is urging beachgoers young and old, to apply these simple reminders at the shore:
7 Things You Can Do To Keep Beaches Clean and Safe
1. Leave no trace (if you carry it in, carry it out)
2. Use public restrooms (help keep beach water clean)
3. Don't tread the dunes (prevent beach erosion/use walkovers)
4. Know your limits (swim, surf, and boat safely)
5. Respect native habitats (wildlife and plants)
6. Mind your pet help keep beaches sanitary)
7. Get involved (contact us at http://www.cleanbeaches.com)
The Clean Beaches Coalition today also released its annual list of "Blue Wave" beaches that have been officially certified as clean, healthy and environmentally well managed. The announcement was made as record numbers of beach-lovers prepare to flock to the beach for the July 4th weekend, the biggest beach-going weekend of the year.
Blue Wave is the first environmental certification program for beaches in the U.S. Now in its 12th year, the program has been called the "LEEDS" certification for beaches. To become certified, beaches adhere to best management practices in the following areas: water quality, beach and intertidal conditions, hazards/safety, services, habitat conservation, erosion management, public information and education.
2012 BLUE WAVE BEACHES 
American Samoa
Ofu Beach, National Park of American Samoa
Olosega Beach, National Park of American Samoa
California
Drakes Beach, Point Reyes National Seashore
Wildcat Beach, Point Reyes National Seashore
Limantour Beach, Point Reyes National Seashore
Crescent Beach, Redwood National Park
Gold Bluff Beach, Redwood National Park
Enderts Beach, Redwood National Park
Florida (South Atlantic)
Hollywood Beach
Dania Beach
Fort Lauderdale Beach
Pompano Beach
Deerfield Beach
Lauderdale-by-the-Sea
Florida (Pan Handle)
Johnson Beach, Gulf Islands National Seashore
Florida (Gulf Coast)
Venice Beach
Siesta Key Beach
Caspersen Beach
Lido Beach
Anna Maria Beach
Holmes Beach
Manatee Beach
Cortez Beach
Coquina Beach
Florida (Mid Atlantic)
Jetty Park (Port Canaveral)
Georgia
Dungeness Beach, Cumberland Island National Seashore
Hawaii
Keauhou Landing, Hawaii Volcanoes National Park
Halape Shelter, Hawaii Volcanoes National Park
Ka' aha Beach, Hawaii Volcanoes National Park
Indiana
Kemil Beach, Indiana Dunes National Lakeshore
Lake View Beach, Indiana Dunes National Lakeshore
Mount Baldy Beach, Indiana Dunes National Lakeshore
West Beach, Indiana Dunes National Lakeshore
Maryland
North Ocean Beach, Assateague Island National Seashore
Maine
Sand Beach, Acadia National Park
Echo Beach, Acadia National Park
Massachusetts
Coast Guard Beach, Cape Cod National Seashore
Herring Cove Beach, Cape Cod National Seashore
Marconi Beach, Cape Cod National Seashore
Nauset Light Beach, Cape Cod National Seashore
Race Point Beach, Cape Cod National Seashore
Michigan
Pere Marquette Beach
Esch Beach, Sleeping Bear Dunes National Lakeshore
South Manitou Island, Sleeping Bear Dunes National Lakeshore
Sand Pont Beach, Pictured Rocks National Lakeshore
North Carolina
North Core Banks, Cape Lookout National Seashore
South Core Banks, Cape Lookout National Seashore
Shackleford Banks, Cape Lookout National Seashore
New Jersey
North Beach, Sandy Hook National Seashore
N. Gunnison Beach, Sandy Hook National Seashore
New York
Sunken Forest Beach, Fire Island National Seashore
Watch Hill Beach, Fire Island National Seashore
Ohio
Huntington Beach, Cleveland
Oregon
Cannon Beach
Texas
Rockport Beach
Malaquite Beach, Padre Island National Seashore
Little Shell Beach, Padre Island National Seashore
Big Shell Beach, Padre Island National Seashore
Virginia
Tom's Cove Beach, Assateague Island National Seashore
Washington
Rialto Beach, Olympic National Park
Kalaloch Beach, Olympic National Park
Wisconsin
Bradford Beach, Milwaukee
North Beach, Racine
Julian Bay Beach, Apostle Island National Lakeshore
Little Sand Bay Beach, Apostle Island National Lakeshore
Meyers Beach, Apostle Island National Lakeshore
U.S. Virgin Islands
Trunk Bay, Virgin Islands National Seashore
Maho, Virgin Islands National Seashore
Hawksnest, Virgin Islands National Seashore