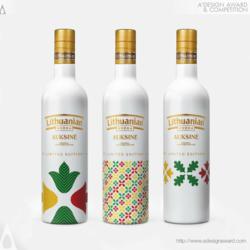 (PRWEB) July 05, 2012
A' Award and Competitions are pleased to share that the design Lithuanian Vodka Gold Limited Edition by Design Team LT Identity has been awarded with the noteable Golden A' Design Award at Packaging Design Competition elected as the winner by the esteemed judges of the A' Design Awards & Competitions among a great number of designs.
Details of Lithuanian Vodka Gold Limited Edition
Edvardas Kavarskas, the lead designer of the winning project Lithuanian Vodka Gold Limited Edition explains, "The special edition of Lithuanian Vodka Gold designed with modern ethnographical symbols is an unexpected link between yesterday and today. The old ethnographical symbols – oak leaves and lily flowers – have been revived. In the Lithuanian folklore lilies are associated with femininity and oak – with masculinity, strength and courage. Therefore the female and male elements are intertwined in the design, while the Lithuanian spirit is emphasised by the colours of the Lithuanian flag – yellow, green and red." Learn more about this design: http://www.adesignaward.com/design.php?ID=24384
Creative Team for Lithuanian Vodka Gold Limited Edition
Lithuanian Vodka Gold Limited Edition was imagined by design team LT identity: Ieva Seviakovaite – fashion designer, Jolanta Rimkute – fashion designer, Edvardas Kavarskas – graphic designer, art director, Partners: Agency – Adell Taivas Ogilvy, Advertisement animation – TAPE, and Advertisment music – Garso architektura
The Golden A' Design Award
The Golden A' Design Award is a prestigious award given to top 3% percentile designs that has exhibited an exemplary level of quality in design. The designs are judged by a panel of three different jury which is composed of academic, professional and focus group members. The designs are evaluated with score normalization to remove any biases and are voted on aspects such as functionality, ergonomics, engineering, presentation, innovation, usability, fun details, technology, and any other specific points that could be considered, each of these points are further weighted for different jury groups.
About A' Design Award and Competitions
A'Design Award and Competitions aims to highlight the excellent qualifications of best designs, design concepts and design oriented products. A' Design Award and Competitions are organized and awarded annually and internationally in multiple categories to reach a wide, design-oriented audience. Learn more at: http://www.whatisadesignaward.com