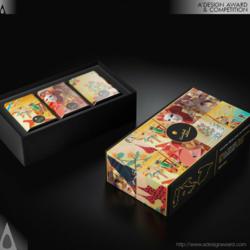 Como, Italy (PRWEB) July 06, 2012
A' Award and Competitions are proud to tell that the design The Olive Oil Experience by Tgtl has been granted the famed Golden A' Design Award in Packaging Design Category chosen as the winner by the esteemed jury members of the A' Design Awards & Competitions amidst a great number of works.
Details of Tgtl-The Olive Oil Experience
Guilherme Jardim, the creative mind behind the winning design The Olive Oil Experience says "Luxury illustrated gift box that joins 3 different olive oil from the 3 main olive oil producers: Portugal, Spain and Italy. This limited edition set of olive oils captures the unique characteristics of Spain, Italy and Portugal in an individually distinctive yet unified collection. These three uniquely illustrated products have been worked together into a single piece of packaging. The use of warm tones is a clever visual cue that isolates the key environmental factor (the climate needed for growing olives) unifying products sourced from different countries." Learn more about the award winning design: http://www.adesignaward.com/design.php?ID=24029
Creative Team for Tgtl - The Olive Oil Experience
The Olive Oil Experience was realized by Guilherme Jardim, Pedro Andre, Mario Belem, Mauro de Donatis, Mar Hernandez, Vladimir Pospelov.
The Golden A' Design Award
The Golden A' Design Award is a prestigious award given to top 3% percentile designs that has accomplished an exemplary level of sublimity in design. The designs are judged by a panel of three different jury which is composed of Academic, Professional and Focus Group Members. The designs are evaluated with score normalization to remove any biases and are voted on aspects such as functionality, ergonomics, engineering, presentation, innovation, usability, fun details, technology, and any other specific points that could be considered, each of these points are further weighted for different jury groups.
About A' Design Award and Competitions
A'Design Award and Competitions, aims to highlight the excellent qualifications of best designs, design concepts and design oriented products. A' Design Award and Competitions are organized and awarded annually and internationally in multiple categories to reach a wide, design-oriented audience. Learn more: http://www.whatisadesignaward.com