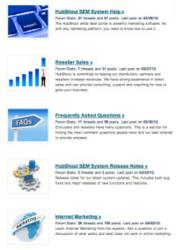 Businesses that are successful in the long run not only have great customer acquisition capability but, more importantly, focus on keeping customers happy and engaged with great customer service.
Falls Church, VA (PRWEB) July 07, 2012
HubShout is a US based white label SEO firm with offices in Rochester, NY and Falls Church, VA. All HubShout online marketing services are available to direct clients. Specialties include SEO, PPC, social media, email marketing, websites, customer reviews and local SEO.
Achieving top search results is the first priority for all HubShout white label SEO campaigns. The HubShout account manager/SEO reseller partnership focuses on selling services and ensuring customer satisfaction. Once a client signs on as a HubShout SEO reseller, the new reseller is supplied with a custom branded SEO dashboard. The white label SEO dashboard is customized with the reseller's logo and colors to match the style of the reseller's website.
Extensive training opportunities are available to HubShout SEO resellers. Each month, HubShout CEO, Chad Hill, and President, Dr. Adam Stetzer, present two webinars. Typically, one webinar focuses on white label SEO sales training and the other, a demo of new HubShout white label SEO releases (tools, products, services).
In June, Stetzer and Hill met with the HubShout marketing team to develop a plan to help resellers prevent customer turnover. HubShout's June white label SEO newsletter introduced the plan to SEO resellers and provided details about the cost of customer turnover: Research shows that the number one reason customers leave is poor customer experience, existing customers are the best and most predictable source of revenue and landing new clients is more expensive than retaining current customers. Going forward, HubShout will continue to reinforce the customer retention theme in SEO reseller webinars and other white label SEO training formats.
To cultivate trust that leads to improved customer retention, HubShout advises its SEO resellers to:

Set realistic expectations for clients
Schedule a kick off meeting for new clients to review expectations, finalize campaign goals and establish lines of communication
Schedule a routine monthly account meeting to review key metrics
Sign up for HubShout's white label customer support service
HubShout SEO resellers are also advised to use the HubShout email marketing service to send automated newsletters and alerts to explain changes in online marketing (Google updates, new social media sites) and educate clients about how the changes may affect their campaigns. HubShout SEO resellers have free access to the HubShout white label email marketing tool.
On June 28, HubShout presented a one-hour webinar on the topic of SEO reseller customer retention. Hill and Stetzer shared their insights on the measures that improve customer satisfaction and explained how to use the HubShout white label SEO dashboard, tools and services to reduce customer turnover.
During the webinar, Hill encouraged SEO resellers to use the HubShout forum to discuss customer retention issues. Hill, Stetzer and HubShout account managers and online marketing staff are active in the forum and engage with clients who post in the forum.
The white label SEO relationship is atypical in that the SEO reseller is not 100% responsible for campaign results. HubShout professional online marketers, highly trained in SEO, PPC, social media, email marketing, local SEO and other online marketing services take charge of the campaign tasks. To stay in-line with Google's updated SEO rules following the Google Penguin and Panda updates, HubShout white label SEO specialists put extra emphasis on content marketing, using the writer instructions and image library that are built into the HubShout white label SEO dashboard.
Results are reported on the white label SEO dashboard and the SEO reseller and clients can login 24/7 to view the data. The HubShout online marketing staff is trained to forecast results, identify obstacles and report potential problems to account managers who, in turn, report issues to SEO resellers. All of the communications regarding campaigns and customer communications are documented and managed with the HubShout CRM functions that are integrated with the HubShout white label SEO dashboard.
For more information about HubShout's customer retention plan, white label SEO reseller program or any HubShout online marketing service, please contact HubShout directly.