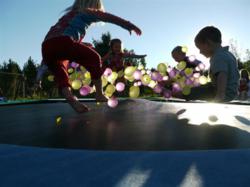 People choose to travel and adventure with [Girls4Sport] for a variety of reasons--sun protection, modesty, mix and match swim apparel ease.
Santa Cruz, CA (PRWEB) July 06, 2012
Swimwear designer Girls4Sport sifted through dozens of entries to select the winners for this year's travel and adventure photo contest, Where in the World Are You Taking Us? The first place prize went to Johannes Rehm of Montana. Her prize-winning photo features children back-lit by a blazing summer sun bouncing on a trampoline with water balloons. The photo was snapped at the moment in which all five children and all of the water balloons are suspended mid-air above the trampoline. Runners up prizes were awarded to Jama McKinney, Tiffany Witherspoon, and Laura Rehm, who captured photos on travels to the Big Island of Hawaii, Clearwater, Florida, and Glacier National Park, respectively.
"We wanted to give women (and girls) the chance to share their stories of fun sporting Girls4Sport swimwear," said Leanne Salandro, Creative Director for Girls4Sport. "People choose to travel and adventure with us for a variety of reasons--sun protection, modesty, mix and match swim apparel ease. It's a treat for us to hear where people take us, whether it's 5 or 5,000 miles from home."
The first place winner received $275 toward any online purchase at Girls4Sport.net; the three runners up each received $125 toward any online purchase. The winning photos and captions for this year's contest can be viewed at http://www.girls4sport.net/SearchResults.asp?Cat=482.
Girls4Sport designs sporty swimwear and fitness apparel for women and junior girls. The swimwear line features mix-and-match swimsuit separates in a variety of styles with cute full coverage options, long and short sleeve rash guard swim shirts, tankinis, bikinis, swim bottoms, coordinating board shorts and more. The fitness line features moisture-wicking sports bras, half-zip tops and yoga pants.