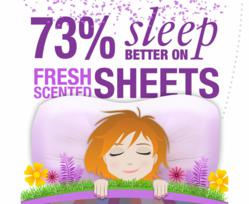 Fewer than half of Americans wash their sheets once per week, yet 73% of people report sleeping better on fresh sheets.
Portland, Maine (PRWEB) July 09, 2012
Although sleeping on clean sheets may seem like an obvious health benefit, a poll by the National Sleep Foundation showed that 73% of people sleep better on fresh sheets. In addition, 85% of people reported improved sleep and 73% said they had improved romantic lives when they slept on comfortable sheets. Cuddledown, a U.S. company known for their quality bedding, has created an informative infographic outlining all the hazards of dirty bed sheets and all the benefits from sleeping on fresh, clean, comfortable sheets.
Why Wash Sheets Weekly?
The human body is home to more than 1,000 species of bacteria – there are more germs on your body than people in the United States. Plus, every night, people shed 1.5 million skin cells per hour, which provides food for dust mites that inhabit your bed. The Wall Street Journal Online's recent report also mentioned the fact that one person can perspire as much as a liter in a night. These eye-opening facts are why experts recommend that people wash their sheets at least once per week, in water of 130-150 degrees Fahrenheit.
Unfortunately, a 2009 survey reported that as many as 26% of people wash their sheets once per month or even less often, and 35% said they washed them every few weeks. That means fewer than half of us actually wash our sheets once per week.
Sheet Fabric Matters
Choosing the perfect sheet can make all the difference for sleep comfort. As a company creating luxurious, fine quality bedding, Cuddledown offers sheets in a wide variety of fabrics, one for any preference. Cuddledown's fabric choices range from heavenly lightweight cotton voile, to everyone's favorite crisp percale and smooth sateen, to soft jersey knit and warm flannel. They also carry linen sheets, which get softer after every wash, and are known for their breathable, temperature regulating properties.
About Cuddledown
Cuddledown, a family-owned company located in Maine, has been committed to making and selling the finest in home fashions since 1973. In addition to their own U.S.-made core products – down and synthetic comforters, pillows and featherbeds – Cuddledown also offers bedding and linens, sourced from the finest mills worldwide, plus quality sleepwear, apparel and footwear, as well as home décor and gift items. Their superior fabrics and fills, exclusive designs, quality construction, plus devotion to great customer service, make Cuddledown the premiere source for high-end bedding, linens and more.
http://www.cuddledown.com
Sources:
Stahl, J. (2006, July). 20 Things You Didn't Know About Sleep. Discover Magazine.
Decarbo B. (2012, April 23). Quick Cures/Quack Cures: When to Clean the Sheets. WSJ Online.
AOL Health poll of Americans' hygiene habits (2009).
Soman, M. 25 Ways to Sleep Better Tonight. Good Housekeeping.
National Sleep Foundation. (January 2011). National Sleep Foundation 2012 Bedroom Poll.