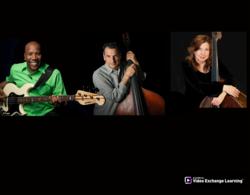 The newly unveiled "ArtistWorks Bass Campus" offers bass enthusiasts around the world the chance to learn to play bass directly from three legendary bassists.
Napa, CA (PRWEB) July 10, 2012
ArtistWorks announced today the launch of its new interactive "Bass Super School", featuring virtuoso Jazz Bassist John Patitucci, Rock/Pop Bass Legend Nathan East, & Bluegrass Bass Phenom Missy Raines. The newly unveiled "ArtistWorks Bass Campus" offers bass enthusiasts around the world the chance to learn to play bass directly from three legendary bassists.
The Bass Campus is divided into three distinctly different bass schools: Jazz Bass School with John Patitucci, Pop & Rock Bass School with Nathan East, and Bluegrass Bass School with Missy Raines.
The Bass Campus utilizes ArtistWorks' Video Exchange™ Accelerated Learning Platform, which enables its members to watch streaming video lessons at their own pace and submit their practice videos for feedback from their teacher. Each student submission is reviewed and responded to by the artists personally, providing video feedback on how the student can further improve. These "Video Exchanges" are made available to the entire online community, enabling students to learn from each other as well as the teacher, creating a virtual classroom with an ever-expanding curriculum.
The Jazz Bass School with John Patitucci combines an extensive curriculum of jazz bass lessons, interactive community features, and personalized feedback from a world-renowned talent. John Patitucci is one of the world's most respected musicians and educators, having played with some of music's biggest names and served on the boards of numerous music organizations.
"I enjoy teaching and sharing my passion for music with my students – but I am always limited to the amount of students who can come to me," says Patitucci. "My online bass school will me to teach students all over the world, without them ever having to leave home."
The Pop & Rock Bass School with Nathan East allows students around the word to learn how to play bass direct from the legendary Nathan East. Award-winning Rock/Pop/R&B bassist Nathan East is one of the most recorded bassists of all time, and has worked with almost everyone in the music industry including Eric Clapton, Michael Jackson, and Elton John. In 2007, Nathan was awarded a Congressional Record by the U.S. Congress for his contribution to the worldwide music community.
"It's exciting to me to know that I will be interacting with students personally," says East. "When you record a DVD – it's done. Now I will get to respond to students' playing and be directly engaged in watching their progress."
The Bluegrass Bass School with Missy Raines gives students the opportunity to learn how to play double bass from one of the most respected and awarded musicians in Bluegrass. In addition to being a trailblazer on the Nashville music scene, Missy Raines has won Bass Player of the Year an unprecedented 7 times from the prestigious IBMA (International Bluegrass Music Association).
"The additions of both Nathan East and John Patitucci absolutely establish the ArtistWorks Bass Academy faculty as one of the most diverse and inspiring in the world," says Raines. "I cannot imagine being in better company.
The ArtistWorks Bass Campus is open to bass enthusiasts of all ages and playing ability. Tuition is reasonably priced at $90.00 for 3 months, $150.00 for 6 months and $240.00 for a 12-month subscription. For more information visit http://www.artistworksbass.com.
About ArtistWorks, Inc.
Founded in 2008 by former AOL executive David Butler, ArtistWorks, Inc. is a Napa California-based technology and music education company that provides a global online learning community of world-renowned artists and enthusiastic amateurs dedicated to unleashing the music that lies within all of us. Its Video Exchange™ Accelerated Learning Platform enables virtuoso musicians to "teach the world" by presenting their full method, technique or lesson list in HD video to subscribing students. Utilizing simple web cams, iPhones, iPads and other digital devices, members are able to submit practice videos for individualized feedback and guidance - creating a two-way, online learning experience between student and teacher.
ArtistWorks currently offers online music schools from such world-class, virtuoso artists as: Paul Gilbert (rock guitar lessons), Andreas Oberg (jazz guitar lessons), Martin Taylor (fingerstyle guitar lessons), Jason Vieaux (classical guitar lessons), Howard Levy (harmonica lessons), DJ Qbert (DJ lessons), Christie Peery (piano lessons), Thomas Lang (rock drum lessons), Billy Cobham (jazz and Fusion drum lessons), Luis Conte (percussion lessons), as well as the ArtistWorks Academy of Bluegrass with Tony Trischka (banjo lessons), Missy Raines (double bass lessons), Bryan Sutton (flatpick guitar lessons), Andy Hall (dobro lessons), Mike Marshall (mandolin lessons), and Darol Anger (fiddle lessons).