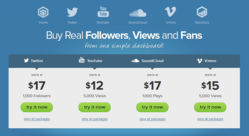 Ottawa, ON (PRWEB) July 08, 2012
In line with the success of three consecutive contests, Buy Real Marketing now announces plans to offer more contests in the months to come. Following the recent 5000 YouTube views contest that has provided 20 video owners the chance to increase YouTube views, Buy Real Marketing will give away 500 Facebook fans to four lucky winners or more.
The contest is a two-step process. Here are the mechanics:
Step1 Share the web page http://www.buyrealmarketing.com/buy-twitter-followers to either Facebook or Twitter.
Step2 Send profile bearing the post, via share or tweet to hello@buyrealmarketing.com for contest managers to check the shared link.
Winners will be announced next week July 12, 2012.
The easy-to-follow contest helps to encourage the online community to participate. "It is a way to show our clients and prospects that we are genuinely about giving the services for free. We believe that contests are meant to be simple to the participants to allow for more chances of winning the prizes, which in this case are four batches of 500 Facebook fans," reveals Managing Director, JP Bisson.
Facebook fans are valuable assets to any business that is marketing online. With the cutthroat competition in the internet, Facebook is one of the most advantageous platforms to which local and small businesses can gain traction on. Buy Real Marketing has long realized its potential and marketability. Giving away 500 Facebook fans is their way of providing businesses a strong foothold in their industry online.
"We encourage everyone to join the contest and help themselves gain traction in the online competition. It is open to everyone. It does not matter if you don't have a fan page. You can use it to boost fan pages of your idol or a business you patronize and is not getting the attention they deserve," recommends Business Development - Managing Director, Jonathan Kennedy.
Buy Real Marketing is the leading provider of Facebook fans, Twitter followers, YouTube views, SoundCloud plays and Vimeo views. Their customer support is available 24/7 and provides services with a 100% Money Back Guarantee, which time and again proves their mantra of giving only the best quality to offer clients.
To know more about the company's services, visit their website at http://www.buyrealmarketing.com or contact them at 1-877-435-5955.
About
Buy Real Marketing is wholly owned by Clicking Labs, Inc. Clicking Labs is a well established internet marketing company founded in 2010 by Jean-Patrick Bisson, Diana Quartin and Jonathan Kennedy. The company specializes in driving search marketing and social media traffic, social web app development and conversion optimization. Each product or service specifically helps small/medium website owners increase online visibility and improve online sales.