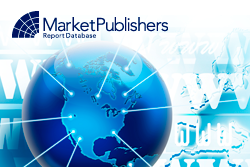 London, UK (PRWEB) July 06, 2012
The global market for hemophilia products has shown continuous growth in the past years growing at 8.96% CAGR from 2006 to 2011 and is projected to expand steadily in the upcoming years.
The major factors driving the growth of the industry are the increasing number of new patients registering themselves for treatment at the hospitals and other healthcare institutions, growing male population, rising expenditure on healthcare globally, and the increased life expectancy for hemophilia patients. At the same time factors like antibody neutralization and lack of diagnostic facilities leading to improper or late detection of the disease are posing acute challenges in front of every other person falling within the realm of this therapeutic field.
New study "Global Hemophilia Market Report: 2012 Edition" developed by Koncept Analytics has been recently published by Market Publishers Ltd.
Report Details:
Title: Global Hemophilia Market Report: 2012 Edition
Published: June, 2012
Pages: 47
Price: US$ 800.00
http://marketpublishers.com/report/medicine_pharmaceuticals_biotechnology/healthcare_equipment_services/global_hemophilia_market_report_2012_edition.html
The report offers an in-depth analysis of the global hemophilia treatment market, discussing the major trends, growth drivers and potential markets. It examines the competitive landscape of the industry and profiles top market players with an insight into their key financials and business strategies. Furthermore, the potential future growth path of the global hemophilia treatment market is also discussed in detail.
Major companies profiled include: Novo Nordisk, Baxter International, Grifols, and Pfizer, Inc.
Report Contents:
1. Hemophilia: An Overview
2. Market Overview
2.1 Global Heamophilia Market
Market Value
No. of Patients
2.2 Global Hemophilia Market by Type
2.2.1 Hemophilia A
Market Characteristics
Market Size
Key Products
2.2.2 Hemophilia B
Market Characteristics
Market Size
Key Products
2.2.3 Hemophilia with Inhibitor
2.3 Global Hemophilia Therapeutics Market by Region
2.3.1 Australia
Market Overview
Volume of Patients
Demand of Plasma Derived Factor IX
Demand of Recombinant Factor IX
2.3.2 The US
Market Overview
Plasma Derived FVIII Market Share
Distribution Growth of rFVIII products
New Patient Registrations
3. Hemophilia Market Dynamics
3.1 Key Trends
3.1.1 Inclination towards Prophylaxis
3.1.2 Abated Use of Central Venous Access Device for Prophylactic
3.1.3 Long-Acting Factor VIII and IX Development
3.1.4 Growing Penetration of rFVIII Products in Emerging Markets – Opportunity for Manufacturers
3.2 Industry Developments
3.2.1 Innovative Gene Therapy for Treating Heamophilia B
3.2.2 Extended Half Life of the Recombinant Coagulation Factors
3.2.3 Development of 4-factor PCC for Reversal of Vitamin K Antagonist Anticoagulant Therapy
3.2.4 Approval of ADVATE in China
3.2.5 Baxter's Phase I Clinical Trial of Treatment for Hemophilia A
3.3 Growth Drivers
3.3.1 Increasing New Patient Registration
3.3.2 Rising Male Population
3.3.3 Increasing Expenditure on Healthcare
3.3.4 Increasing Life Expectancy for Hemophilia Patients
3.4 Challenges
3.4.1 Risk of Antibody Neutralization
3.4.2 Misdiagnosis of the Disease
4. Hemophilia Market - Competitive Scenario
Competition in Hemophilia A Market
Competition in Hemophilia B Market
5. Company Profiles
5.1 Novo Nordisk
Business Description
Key Financials
Business Strategies
Focus on Hormone Therapy
Establish Leadership Position
5.2 Baxter International
Business Description
Key Financials
Business Strategies
Focus on Investment in Research & Development
Achieving Growth through Sustainable Development
5.3 Grifols
Business Description
Key Financials
Business Strategies
Expansion in Other Geographic Regions
Growth through Mergers & Acquisitions
5.4 Pfizer, Inc.
Business Description
Key Financials
Business Strategies
Focus on Growth
Strategic Acquisitions
6. Market Outlook
6.1 Market Forecast
6.2 Forecast Methodology
6.2.1 Dependent and Independent Variables
6.2.2 Correlation Analysis
6.2.3 Regression Analysis
List of Charts
List of Tables
More new market research reports by the publisher can be found at Koncept Analytics page.