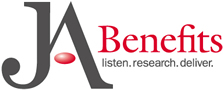 JA Exchange is designed to take the mystery out of the new health insurance market.
Bedford, Ind. (PRWEB) July 10, 2012
The health care exchange concept at the center of the Patient Protection and Affordable Care Act (ACA) has already become a reality in Southern Indiana. JA Benefits, a Bedford-based benefits provider, today announced the launch of its private health care exchange, JA Exchange (jaexchange.net), which enables individuals and small business owners to comparison-shop among major carriers such as United Healthcare, Anthem, and Humana.
"This is a model for what health care exchanges are going to look like," said JA Benefits founder Doug Johnson. "Individuals and business owners can go online right now and cost-compare across different carriers and coverage plans."
Federally mandated exchanges are a primary component of the ACA, which was upheld in last week's Supreme Court ruling. Private exchanges like JA Exchange will play a major role in the new health care insurance marketplace.
"Not only do we offer alternatives to state-sponsored programs, but we also anticipate partnering with public programs to offer a full menu of options," Johnson said. "As the ACA goes into effect, we will be incorporating its provisions so that individuals and employers can see their full eligibility status and the impact of tax credits."
Individual users of jaexchange.net can receive quotes in seconds by entering their age, zip code, gender, smoking status, and the type of plan they are seeking. A results page delivers information on dozens of coverage options with full information on monthly rates, co-pays, deductibles, prescription coverage, and in- and out-of-network charges. Users can apply for the plans directly from the website, or contact a JA Benefits representative to discuss their options.
"We know people have a lot of questions about how the ACA ruling will impact them and what they have access to for their health care," Johnson said. "JA Exchange is designed to take the mystery out of the new health insurance market. We'll be keeping it up to the minute so that it continues to let people see exactly what they can get and how much it's going to cost them."
About JA Benefits, LLC
JA Benefits, LLC (http://www.jabenefits.com) provides the full range of employee health, wellness, and retirement benefit services and technology products to clients of all sizes. Formed in 1988, JA Benefits has grown to become one of the largest Independent benefit consulting firms in the Midwest. Based in Bedford, Indiana, its associates serve clients across the nation.
Contact:
Douglas Johnson, President
JA Benefits, LLC
doug.johnson(at)jabenefits(dot)com
800.663.5960, 515