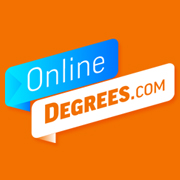 This infographic gives an inside look into the impact of sharing socially.
Foster City, Calif. (PRWEB) July 10, 2012
OnlineDegrees.com, a leading education website since 2003, recently launched a new infographic, "Scoring Klout," which offers the inside scoop on how online influence is measured by Klout, a ranking tool that scores online authority based on several key social metrics.
Klout measures how influential an individual or brand is based on how others engage with them online. Klout scores range from one to 100 and are based on social activity on Twitter, Facebook, LinkedIn, Google+ and Foursquare. The infographic breaks down the various factors that go into a Klout score and shows how users with higher Klout generate more online attention.
"These days, we're managing relationships and connections online, so it's becoming more important to consider how far your message travels," said Kevin Phang, spokesperson for OnlineDegrees.com. "This infographic gives an inside look into the impact of sharing socially."
Many famous personalities have high Klout scores because of their mass followings and ability to spur their fans into action. Some of the highest-scoring superstars include pop singer Justin Bieber with a perfect 100, talk show host and actress Ellen DeGeneres with an 89, and celebrity chef and Travel Channel host Anthony Bourdain with a 75.
For the average person, however, the typical Klout score is closer to 20. But Klout allows these average folks to gain recognition within online communities on topic such as education, blogging or food. Individuals with Klout scores that exceed certain thresholds can qualify for Klout Perks, or giveaways from businesses that want to reach online influencers. Past perks have included business cards, gift certificates and for lucky users, tickets to a Bon Jovi concert.
"A major take-away from the infographic is that Klout's measurement and scoring of social influence is still very new," continued Phang. "How Klout scores could be used in professional settings -- such as job interviews -- remains up in the air."
For more information on this infographic, or others like it, please visit OnlineDegrees.com.
About OnlineDegrees.com
OnlineDegrees.com is a leading education resource focused on connecting thousands of visitors with the information they seek about online education and degree programs. Site visitors can easily research schools and connect with the providers of the career training they needed to succeed. OnlineDegrees.com is owned and operated by QuinStreet, Inc. (NASDAQ: QNST), one of the largest Internet marketing and media companies in the world. QuinStreet is committed to providing consumers and businesses with the information they need to research, find and select the products, services and brands that meet their needs. The company is a leader in visitor-friendly marketing practices. For more information, please visit QuinStreet.com
###