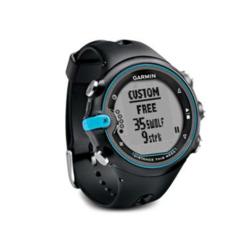 It is far and away the best swim watch we have seen to date in terms of both functionality and form
Bozeman, MT (PRWEB) July 09, 2012
The new Garmin Swim watch unit measures swimming efficiency, strokes, laps, pace and even uploads to Garmin Connect software and they are now available at the Heart Rate Watch Company.
"This is the best looking swim watch we've ever tested and you can even use it as an everyday watch, plus it reminds you constantly of how many miles you've done that week which is an extra motivator", says Rusty Squire, President of the Heart Rate Watch Company. He adds, "It (SWOLF) swim efficiency index really keeps you honest on your level of improvement".
The Garmin Swim watch offers advanced features for timing sets and logging your drills, plus it delivers all critical swim metrics in real-time and includes a very visual software indicating your swim efficiency improvements. "It is far and away the best swim watch we have seen to date in terms of both functionality and form", says Squire.
The Garmin Swim watch is lighter than the S wimovate Poolmate Pro and the Finis Swim Sense. The Garmin Swim is also the only one of these three watches that contains user configurable pages, which is a big improvement. "It flat out outperforms the competition and is the best looking of the three major swim watch brands", says Squire.
The Garmin Swim watch does require an optional Garmin USB data stick to access Garmin's free online software Garmin Connect. This is well worth the investment of $40 for those looking to really improve and log their data for subsequent analysis.
"The Garmin Swim watch is ideal for competitive swimmers, triathletes that pool train and even recreational swimmers just trying to improve", says Squire.