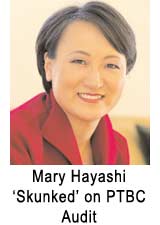 The auditor's results proved there was absolutely no merit to Mary Hayashi's baseless accusations against the PTBC.
Los Angeles, CA (PRWEB) July 09, 2012
Today, in a statement released to hundreds of media outlets, following the disclosure of the results of a state audit of the California Physical Therapy Board (PTBC) requested by Assemblymember Mary Hayashi on August 24, 2011, the California Physical Therapist Private Practice Group (CA PPG) sharply criticized Hayashi for "abusing her power and misusing public funds."
In a letter posted on her website (click here) and in testimony presented in front of the Joint Legislative Audit Committee (JLAC) (click here), she accused the PTBC of coordinating unethical activities with the California Physical Therapy Association (CPTA) and unfairly investigating complaints against physical therapists who were allegedly employed by medical corporations--illegally. Just two months earlier, a Hayashi-authored bill, AB 783, was killed in the Senate, which would have legalized physician self referral-for-profit in the form of physician-owned physical therapy clinics.
Dr. David Straight, physical therapist and chair of the CA Private Practice Group, stated, "It's shameful that Ms. Hayashi again overstepped her bounds and persuaded the JLAC to investigate the PTBC at the cost of $200,000 to taxpayers, despite her lack of evidence to back her claims of wrongdoing."
During the hearing, and in an NBC 4 LA article after the hearing, Dr. Paul Gaspar, DPT, a spokesperson for CA PPG, referred to the audit request as a sham and a fishing expedition that would not catch any fish (click here for the NBC story).
More recently, on June 26, 2012, the State Auditor's office released the results of the Hayashi-requested audit of the PTBC (click here). According to Dr. Gaspar, "The auditor's results proved there was absolutely no merit to any of Assemblymember Hayashi's baseless accusations against the PTBC. In the opinion of many citizens, this was a power play by Hayashi to curtail the PTBC investigation of the 2% of physical therapists working illegally for California Medical Association physicians- her wealthy campaign donors."
In contrast to Mary Hayashi's allegations, Dr. Gaspar and others have noted that the PTBC and its executive director, Steve Hartzell, have been hailed as one of the finest boards and directors under the purview of Governor Jerry Brown, the Department of Consumer Affairs, and the Department of Consumer Services Agency. Dr. Gaspar added, "It is ironic that Hayashi would accuse the PTBC and CPTA of conflicts of interest when she authored a bill to legalize physician referral for profit- an inherent conflict of interest, favoring her big campaign donors."
In today's statement, the CA PPG does not largely cast blame on the JLAC, or its Chair, Assemblymember Ricardo Lara, for approving what they considered a "fishing expedition."
Dr. Gaspar conceded that the JLAC was likely unaware of the disingenuous nature of Hayashi's audit request, but if she would have made the request after October 2011, the 12-2 vote approving the audit would likely have been different. Dr. Gaspar was referring to Hayashi's arrest and sentencing for allegedly shoplifting $2,450 worth of designer merchandise from Neiman Marcus a few months following the audit request, which was reported in the LA Times and numerous other statewide news outlets. "Given the pattern of behavior exhibited by Assemblymember Hayashi, it is reasonable that believe that she has, in effect, 'stolen' taxpayer funds by requesting such a frivolous audit. I can understand why hundreds, if not thousands of California citizens and constituents are calling for her immediate resignation and permanent exit from public service."
Source: California Private Practice Group
#####