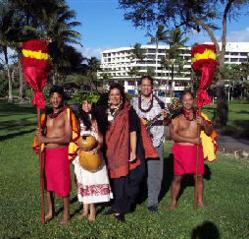 "If you are looking for an exquisite wedding ceremony that will leave everyone without a dry eye then look no further than Kahu Pomaika'i. My husband who is Hawaiian and I were married in Honolulu at the Hale Koa on 2/12/2011. Brandye G
Honolulu, Hawaii (PRWEB) July 10, 2012
Maui'd Forever is one of Hawaii's few full service, all-Hawaiian Islands wedding planner and coordinator. Founded in 2003 by entrepreneur Mark Steffan, the company operates on the Hawaiian Islands of Oahu, Maui, Kauai and the Big Island of Hawaii. They use over 150 different wedding vendors and still find the need to add additional members to their team.
They are happy to announce their newest member on the Island of Oahu, the Kahu Pomaika'i. Currently, Pomaika'i lives in Hawai'i and performs traditional Hawaiian wedding ceremonies, destination weddings, gay unions and serves as a Kahu for many local businesses and families needing Hawaiian blessings and/or clearings. The Hawaii word "kahu" refers to caretaker, the priest to a community, and even some other more diverse meanings all relating to being a giver.
Pomaika'i has acted as a caregiver and a tutor for autistic children and has provided essential Lomilomi treatments for the terminally ill at Kuakini Hospital. She also played an integral role as Massage Therapist at both the Turtle Bay Resort Spa and at the Kahala Hotel and Resort Spa. She left her work there to expand her work as a Kahu.
Kahu Pomaika'i graduated from Hawaii College of Clinical Massage with honors and has continued her studies by attending numerous certified Masters courses. Through her work she has helped improve the athletic performance and longevity of many clients, a skill which eventually led her to the sacred work of energy-touch, Lomilomi.
A licensed therapist for 17 years, Pomaika'i administers HawaiianLomilomi massage as a Kahu. She also provides personal counseling in her role as a non-denominational alaka'i, or guide, counseling that at times includes Ho'oponopono, opu huli treatments and shell and crystal healings. Pomaika'i's work is rooted in infinite aloha (love) and has a profound effect on her clients, facilitating the healing of body, mind and spirit.
Kahu Pomaika'i brings something truly special to a destination wedding in Hawaii. One could not get a more authentic Hawaiian experience and lifetime memories using her as a marriage officiate. She spends time consulting with the couple to tailor the ceremony to their wishes. This can include a one on one meeting. They can chose from modern or traditional vows and they can also incorporate their own personal vows. Her services do cost more but those using her have reported the added cost is well worth this unique experience.
Her services are available on a standalone basis or in a variety of complete wedding packages that include flowers, video, photography and more.