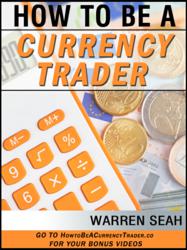 Singapore, Singapore (PRWEB) July 16, 2012
The How to Be a Currency Trader Book is designed to educate retail traders what they need to do to become professional currency traders. The book reveals one of the biggest misconceptions about the currency trading industry and how these misconceptions are making traders fail in this business.
Most new traders believe that buying a 'winning strategy' commercially will increase their returns on investment in their currency trading. Warren Seah discusses in the book why having a 'winning strategy' does not put a trader at any advantage as a winning strategy does not translates to success in currency trading. He said "an exact winning strategies used by ten different traders will have 10 differing outcomes."
Becoming successful in trading isn't about have a winning strategy, but a set of good trading habits and a new unique approach that he reveals will ensure that the trader's habits be dictated with these good habits throughout the entire trading process. Firstly, this unique approach ensures that traders start currency trading with a complete trading plan. Secondly, it ensures that the execution of the plan is 100% implemented as specified by the trader on the live market.
The whole concept of this approach is about disciplined trading with a plan. The number one challenge to trading is emotions- greed and fear. This method is unique because it totally removes all trading emotions and stress that are attached with currency trading. With much of the emotional stress removed, the trader can then focus on doing the most important tasks for his business: adapting his strategy to the current market conditions and perfecting his trading strategy.
Over the 65 pages of the book, Warren uncovers the true nature of currency trading and the good trading habits to make currency trading work for them. In addition, he will be releasing the unique approach that he personally used in his trading to readers of his book. It provides actionable steps where users can immediately apply in their currency trading. The book has also compiled a list of trading tools and resources that the author personally used in trading this approach. Readers also get access to a special four video "How to be a Currency Trader" series that will show them even more practical ideas on trading the currency markets.
With all of the low quality 99 cents reports hitting the Kindle, Warren wanted to do something special for his audience and is going to be giving the book away for free to celebrate the book arriving in the Kindle library from July 18th through July 22th.
The How to Be a Currency Trader Book is available on Amazon.
If traders are having problems getting a winning strategy to work or they find themselves constantly breaking their own systems due to trading emotions, the ideas and approach in this book will explore a unique trading method that will ensure that the traders trade in the disciplined manner and be best positioned to profit from the market.
About Flagforex
Warren Seah is the co owner of Flagforex. Over the last 3 years, he has worked with over 300 retail and professional traders in his Flagforex business where he explores ways for technology to be used as a leveraging tool for the currency trading industry. He has since find some of the answers to the common problems that most traders faced. In addition, he has also uncovered some of the hidden problems most traders have clearly missed and as a result wasn't even aware that these problems have ever existed and thus are causing a lot of problems.
Contact:
Warren Seah
Flag One Pte Ltd
10 Anson Road International Plaza
#26-04 Singapore 079903
http://HowtoBeACurrencyTrader.co
+65 97393465
# # #