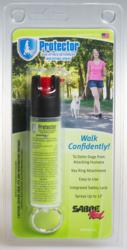 Carrying Protector gives me the peace of mind that I can defend myself and my dog
Fenton, MO (PRWEB) July 12, 2012
In America, 1,000 people are treated for dog bites in emergency rooms every day. New SABRE Red dog deterrent spray, Protector, provides an ideal solution to this problem by protecting the person and pet, without permanently injuring the aggressive dog. SABRE Red Protector spray is also great for joggers, bikers, and mail delivery persons.
Dog owner, Steve O'Neal, expresses the importance of keeping his pet safe, "I love my dog just like a member of my family. And like kids, my dog depends on me for safety." When it comes to a stray or aggressive dog, O'Neal goes on to say, "Carrying Protector gives me the peace of mind that I can defend myself and my dog should a dangerous situation arise."
A hostile dog attack can occur in an instant. One key advantage of the deterrent spray is accessibility. SABRE Red Protector comes in two sizes, a larger canister with a belt clip and a smaller canister that connects to a key chain and can also be easily carried with the leash. Both sizes are equipped with safety tabs that are easy to use and quick to deploy.
The spray deploys in a strong stream, which allows the user to target only the aggressive dog. Since the pepper spray is all natural, the attacking dog will not experience any long term effects. This allows the user to effectively fend off the dog in a humane way. Plus, Protector is a registered product with the US Environmental Protection Agency.
SABRE also offers a pink Protector dog spray that supports the National Breast Cancer Foundation. SABRE has donated over $450,000 to NBCF with the pink models of pepper spray.
Consumers interested in SABRE Red Protector dog deterrent spray can visit http://www.sabrered.com or email info(at)sabrered(dot)com. SABRE Red also manufactures and sells a variety of personal safety sprays for on-the-go and in the home as well as protection against bears with FRONTIERSMAN Bear Attack Deterrent.
"Making Grown Men Cry Since 1975", SABRE Red is manufactured in the USA by Security Equipment Corporation (SEC). SEC produces pepper spray, stun guns, and animal attack deterrent sprays for law enforcement and the general public. For the past 15 years, SEC has trained many of the top law enforcement agencies in the world. In 2008, SEC established the Sabre Personal Safety Academy to help American's defend themselves and their families with proven prevention and protection strategies.