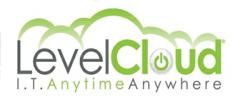 Las Vegas, NV (PRWEB) July 11, 2012
CompTIA provides IT service providers from around the country a great platform to learn about emerging technologies and best practices. The upcoming Breakaway event in Vegas will be no exception. LevelCloud, a channel-only Cloud platform, will be exhibiting and showing MSP's how they can become Cloud Service Providers and begin migrating clients to the Cloud right away.
With Cloud being such a big buzz word in the industry, visitors of the show will be pleased to see vendors such as LevelCloud applying Cloud technology to the SMB market in a practical and effective solution. If you haven't registered for the CompTIA Breakaway event yet, be sure to visit their site and register today. You won't want to miss seeing vendors like LevelCloud and learn how to profit from the Cloud market.
ABOUT LEVELCLOUD
LevelCloud is a turnkey channel-only cloud computing solution that replaces the traditional onsite network. The entire business network (e-mail, apps, data) is delivered through a centralized platform powered by dedicated resources in state of the art datacenters. LevelCloud enables organizations to free themselves from the traditional constraints of IT, and empower their staff to work anytime, anywhere, on any device through a collaborative platform. The solution is provided solely through a channel of LevelCloud Authorized Partners throughout North America.