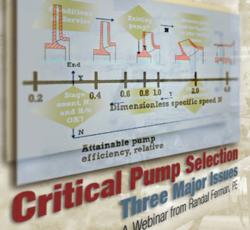 Mission-critical pumps usually require a greater level of scrutiny to ensure success.
Montrose, CA (PRWEB) July 12, 2012
Ekwestrel Corp, an independent engineering consulting company based in Southern California, is pleased to announce a webinar being held on Tuesday, July 17, at 8:30 a.m. PDT. Vice-President Randal Ferman, PE, draws upon more than 35 years' experience in the pump industry to highlight three critical issues one must resolve during the pump selection process. He states, "While the vast majority of pumps are chosen from catalogues – often an online process nowadays – mission-critical pumps usually require a greater level of scrutiny to ensure success."
A Standards Partner of the Hydraulic Institute, a featured Industry Pro of Empowering Pumps, and senior editor of the book Optimizing Pumping Systems, Ferman also consults with international companies regarding pump design and optimization. About the webinar, Randal states, "When it comes to selecting pumps for critical industrial applications, are there measures the manufacturer, the specifying engineer or the contractor can take to minimize the risks of delay in equipment delivery, startup problems, or unanticipated operational problems? Industry pros often learn these answers through years of experience; this webinar distills decades of knowledge into an overall view of the vital issues facing anyone selecting pumps for industrial use."
The scope of this webinar encompasses rotodynamic (centrifugal, mixed-flow and axial impeller) pump types handling liquids. Excluded are solids-handling or slurry pumps, highly-viscous-liquid pump applications, multi-phase pumps, and a few other special pump types. The range of industries affected includes electric power generation, oil and gas, chemical, water and wastewater, and general industry.
During this live webinar, Ferman will cover the pitfalls to navigate when selecting pumps. Following the 20-minute presentation, ten minutes will be available to participants for question-and-answer with Mr. Ferman. Registration is required, and there is no charge for participation, but this free webinar is limited to 200 attendees.
Pumping industry members are invited to join the webinar by visiting Ekwestrel Corp's website at http://www.ekwestrel.com/webinar and registering online.
Ekwestrel Corp provides independent engineering consulting services worldwide. Randal Ferman regularly issues detailed white papers on aspects of pumps and pump applications; visit http://www.ekwestrel.com/main-blog to read past articles and to subscribe.