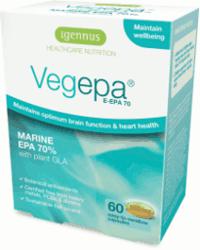 After six months, statistically significant improvements were seen in the treatment group when compared to the placebo group in the areas of restlessness (81.2%), aggressiveness (87.5%) and academic performance (77.1%).
Cambridge, UK (PRWEB) July 12, 2012
Recently published clinical research shows a potential ADHD treatment breakthrough using a pure EPA natural food supplement for children who are resistant to medication and behaviour therapy. (1)
ADHD currently affects around 5-10% of school-aged children (2) and it is estimated that a quarter of ADHD students have serious learning problems in areas including oral expression, listening skills, maths and reading comprehension. (3)
The study, published in the Journal of Child Neurology, recruited 94 children clinically diagnosed with ADHD, who had been on methylphenidate (commonly known as Ritalin) for six months or more, as well as standard behaviour therapy, but had reported no improvement in behaviour or academic learning.
These treatment-resistant children were then randomly assigned to receive supplementation with either two capsules of Vegepa E-EPA 70 daily – a highly purified fatty acid supplement providing 560 mg EPA and 18 mg GLA – or a placebo. EPA is a unique type of omega-3 fatty acid renowned for its neuroactive properties (moderating cognitive function), extracted from anchovy oil and purified to a highly concentrated form suitable for clinical dosing. All children continued to take Ritalin daily.
After six months, statistically significant improvements were seen in the treatment group when compared to the placebo group in the areas of restlessness (81.2%), aggressiveness (87.5%) and academic performance (77.1%). Statistically significant improvements in behaviours such as inattention, impulsiveness and cooperation with parents and teachers were not found at three months but were shown at six months, highlighting the importance of the duration of this treatment regime.
Professor Basant K. Puri, of Imperial College London, a research scientist and psychiatrist, and author of 'A Natural Way to Treat ADHD', commented: "Whilst previous studies have reported mixed outcomes of omega-3 supplementation in ADHD-diagnosed individuals, this is the first study to report highly significant findings from a combination of EPA with GLA. The efficacy of pure ethyl-EPA in combination with GLA further supports the concept that EPA is the primary omega-3 responsible for the psychoactive and neuroactive properties associated with fish oils. Further studies are certainly warranted, but these results are consistent with previous research on pure EPA [depression]. They would indicate that specific supplements can offer safe, natural and effective solutions, either as alternatives to conventional drug treatments or as effective co-therapies.
These results have positive implications for parents concerned about reliance on standard drug treatment, where natural and safe adjunct treatments may provide some symptomatic relief for their children. Parents should discuss such an approach with their child's doctor and also, if possible, obtain professional nutritional guidance. It is important never to stop any existing medication without medical advice."
Vegepa E-EPA 70 is priced at £13.99 for a 1-month supply. This formulation is also available in child-friendly chewable capsules for those who have difficulty swallowing. Available from shop.igennus.com, Bodykind.com, and all good independent health food stores.
For further information, images or product samples please contact Mina Nazemi on 0845 1300 424 or email press(at)igennus(dot)com.
Notes to editors:
About Igennus Healthcare Nutrition
Igennus Healthcare Nutrition specialises in the production of clinical-grade EPA-based supplements, offering natural and science-backed solutions for health, alone or in conjunction with standard and complementary therapies. We are proud to have pioneered a new phase of purified ethyl-EPA products, which started with our first patented product Vegepa E-EPA 70. Our products contain EPA derived from sustainable marine anchovies – ultra-pure, pharmaceutical-grade and free from PCBs, mercury and dioxins.
Used and endorsed by world-leading authorities on fatty acids – both for research and clinical purposes – Vegepa E-EPA 70 is taken by thousands of people for a variety of conditions. Vegepa has been recommended in peer-reviewed scientific journals, as well as having received worldwide media attention for its clinical efficacy, including national print media, radio and television coverage.
About Vegepa
Vegepa E-EPA 70 is a patented 70% ethyl-EPA concentrate extracted from marine anchovy oil and combined with GLA and triterpene antioxidants from organic evening primrose oil. This unique formulation balances and maintains healthy omega-3 and omega-6 levels, providing cells with essential nutrients to support efficient brain function and emotional wellbeing.
Website: http://www.igennus-hn.com. Tel: +44 (0)845 1300 424
References:
1. Perera H, Jeewandara KC, Seneviratne S & Guruge C. (2012) Combined Omega-3 and Omega-6 supplementation in children with attention deficit hyperactivity disorder refractory to methylphenidate treatment: a double-blind placebo-controlled study. Journal of Child Neurology 27:747-753.
2. Biederman J, Faraone SV, Attention-deficit hyperactivity disorder,Lancet, 2005;366:237–48. Also reported in: The Guardian, Ritalin use for ADHD children soars fourfold, 6 May 2012.
3. National Institute for Health and Clinical Excellence: Methylphenidate, atomoxetine and dexamfetamine for Attention Deficit Hyperactivity Disorder (ADHD) in children and adolescents. Review of Technology Appraisal 13 Technology Appraisal 98 2006.