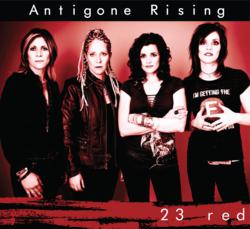 The Women's three-part harmonies shimmered above their alternately rocking and soulful instrumental playing
New York, NY (PRWEB) July 12, 2012
Antigone Rising, all-female country/rock band, will perform a very special one-time-only show with their good friend, singer-songwriter Michelle Malone, at the Bitter End on Tuesday, July 17. Billing it as one big mashed-up show, Antigone Rising will do Malone's songs with the solo singer, while Malone does Antigone Rising songs with the band.
Both Antigone Rising and Michelle Malone have been keeping very busy this year. Antigone Rising recently returned from Israel and The West Bank as Arts Envoys,a cultural initiative sponsored by the U.S. Department of State. During the trip, the band performed in Jerusalem, Tel Aviv, Ramallah and other regional cities, leading community outreach workshops and making music with Israeli and Palestinian musicians. A truly inspiring trip, Antigone Rising demonstrated that all cultures appreciate and connect to the language of music. Antigone Rising have also embarked on a public service crusade for the online peace campaign Push 4 Peace/Summer of Peace, which featured a PSA from the band that was debuted at the organization's event on June 21 in Oakland, Calif. Antigone Rising is participating in the International Day of Peace by streaming a live show on September 21 as part of a global event supporting peaceful conflict resolution and global cooperation.
Antigone Rising exploded into the spotlight in 2005 becoming the first band on Starbuck's Hear Music (Lava Records) with their best selling debut LP. A lineup change brought Nini Camps to the band, whose voice blends perfectly with the signature style soaring three part harmonies of founding sisters Kristen Henderson (bass /vocals), Cathy Henderson (lead guitar /vocals) and Dena Tauriello (drums), that Antigone Rising has become known and loved for. The band's latest CD, "23 Red" continues to turn heads as their themes abound with songs that speak to the full range of emotions and life. The band has opened for such acts as The Rolling Stones, Aerosmith, Joan Jett and The Blackhearts, Rob Thomas and The Bangles, and are favorites in festivals around the country.
Michelle Malone is an American award-winning singer-songwriter and guitarist in the Southern Rock, folk, blues and Americana genres. Her latest CD," Debris," is a high-spirited stripped down blend of rootsy acoustic slide, gritty electric blues and explosive vocals that harkens back to the lost recordings of Bonnie Raitt, Lucinda Williams and The Rolling Stones. "Debris" was on the ballet for a 2010 Grammy Award Nomination in the Best Americana Albums Category. Michelle is currently in the studio finishing her 11th CD, produced by Shawn Mullins, slated for a Fall release. Opening the night is Charleston based, A Fragile Tomorrow.
Show information
Tuesday - July 17th, 2012
The Bitter End
147 Bleecker St. ,NY
Doors: 6:30 pm
Showtime 7:00 pm with A Fragile Tomorrow opening the show
Tix: $15
Antigone Rising is offering a special fan club promotion that guarantees you get in with no extra tix charges on your $15 ticket. By sending an email to armgmt(at)comcast(dot)net you can reserve a ticket to be paid at the door. You can purchase tix at the door as well