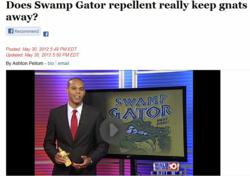 "It's safe to say this is one product that is kid tested and family approved."
(PRWEB) July 28, 2012
P.F. Harris, America's oldest EPA registered company, celebrates its 90th Anniversary in 2012. However, 90 successful years of business is not all the company has to celebrate. A few years ago, P.F. Harris introduced Swamp Gator, a unique all natural insect repellant. Since its release the product has gained the attention of consumers and the media.
Swamp Gator initially proved to be very effective against mosquitos and flies. Soon after its release, many consumers in South Georgia discovered that Swamp Gator also kept away some of the most pesky insects of all: gnats. Since then, the product has caught fire, recently appearing on WALB News. The network commended the product, commenting: "it's safe to say that this is one product that is kid tested and family approved."
Additionally, in 2011 Swamp Gator appeared in a newspaper article in the Albany Herald by Jim West. The article explores effective methods to repel gnats and recommends the "daily deployment" of Swamp Gator in the battle against the pesky bugs.
P.F. Harris, founded in 1922, continues to provide consumers nationwide with effective pest-control products. Harris Famous Roach Tablets were utilized in the Whitehouse during the 1920s, a true testimonial to their effectiveness. Roughly five years ago, a savvy pair of entrepreneurs, Jim Biggs and Dave Rhinehart, came to appreciate the rich history and opportunity in P.F. Harris and purchased the company. Since the purchase in 2007, P.F. Harris has developed and introduced a variety of new products, triggering a staggering jump in sales.
What better time for Swamp Gator to catch the public's eye than on the 90th Anniversary of P.F. Harris. As the company evolves, consumers can anticipate even more all-natural products to repel pests under the Swamp Gator brand.