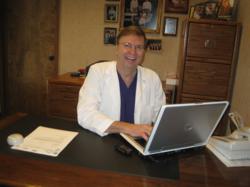 Houma, LA (PRWEB) July 17, 2012
Murray L. Rabalais, P.D., D.D.S., at Progressive Periodontics is now fully trained on the PerioLase MVP-7 laser and the LANAP periodontal disease treatment procedure. This means that his patients who are dealing with gum disease now have this technologically advanced option for treatment. The sooner treatment is started; the better the results and the less likely patients are to suffer from additional complications related to periodontal disease.
Dr. Murray L. Rabalais wants his patients to understand that there are many health problems associated with gum disease. Not only can it damage gum tissue and cause receding gums, but it can also lead to bone degeneration and lost teeth. Other health problems that can be linked to gum disease include heart disease and diabetes. Gum disease or periodontal disease treatment is absolutely necessary in order to stop the progress of the disease and its side effects.
The LANAP procedure utilizes a laser that was designed to be selective in the things it affects. It eliminates the trapped bacteria and removes diseased gum tissue. At the same time, it helps healthy tissue attach to the surface of the root. In addition, it stimulates the regenerative processes in the bone. During the process, the fiber optic-tipped laser is used and ultrasonic cleaners are used to remove tartar. Because healthy gum tissue is not affected, the gum line can remain at its current level.
The sooner patients seek periodontal disease treatment, the more options they have for treatment and the more likely that results will be optimal. Dr. Rabalais is hoping that with the new LANAP procedure, which has little or no discomfort and doesn't require sutures so that quick healing is facilitated, more patients who have gum disease will be willing to get the treatment they need in order to improve their health. To learn more about the LANAP protocol for periodontal disease treatment, please visit louisiana-periodontist.com.
Progressive Periodontics is a periodontal practice offering patients personalized dental care for Houma and New Iberia, Louisiana since 1980. Dr. Murray L. Rabalais graduated from Northeast Louisiana State College with a Bachelor of Science degree in Pharmacy. He received his Doctor of Dental Surgery degree from Loyola University in 1970. After serving in the United States Army he entered the LSU School of Dentistry for post-graduate studies in Periodontics and received his Certificate in Periodontics in 1980. Dr. Rabalais is part of one percent of dental professionals providing the most recent FDA cleared laser procedure for gum disease and periodontal treatment. To learn more about Progressive Periodontics and their dental services visit their website at http://www.louisiana-periodontist.com. To reach the Houma, LA office, call 985-231-5333 or to reach the New Iberia, LA office, call 337-376-0767.